JM Cardesign BMW Z4 E85
It is a regularly recurring process: if a car manufacturer presents a new model, its predecessor generation often seems outdated and old-fashioned all of a sudden, even though there was no reason for complaint previously. This happens at a time when the model usually has already gone through more or less intense model care. Although this kind of "spontaneous aging" is rather below average for the first-generation-BMW Z4, JM Cardesign from Bergheim performed a very special kind of face-lifting on the E85-Roadster presented here. The tuner fitted the "old" Z4 with the front pieces of the new E89 model. The front bumper and grille were modified in extensive handiwork to match the headlights, mudguards and bonnet of the E85. The result is very harmonious: even MBMW enthusiasts will take a moment to entirely identify the cross-generation transformation. JM Car Design also applied some classic craftsmanship in the area of the rear wheel runs.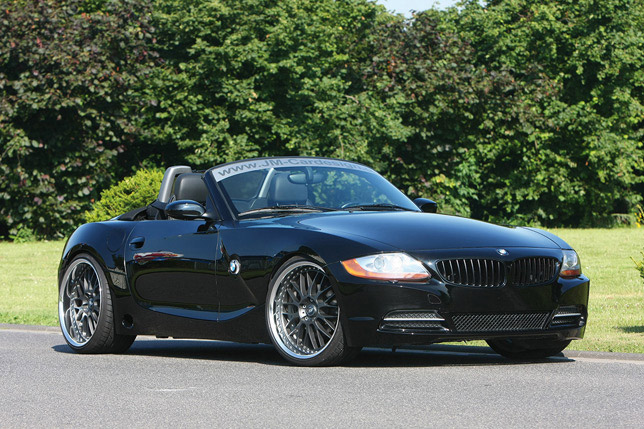 The sheet was extended by about 30 millimetres on each side, and the wheel running edge was then re-built in the "original" look. Of course, this widening also required adjustment of the rear apron and side sills to the new situation. The latter also had ventilation openings integrated that facilitate the cooling air flow to the rear brake system (in connection with the corresponding ducts). Before the vehicle was re-painted from silver to solid black in the in-house paint shop, JM Cardesign made the antenna, which is usually located on the rear left mudguard, vanish. It is now invisibly placed in the rear bumper. The door handles, side mirrors and side indicator lights in a BMW logo shape at the doors were also equipped with coming-home-lighting LEDs by JM Cardesign.
The car is lowered by a 3-thread chassis version KW, adjustable in several parameters (height, pressure and tensile dampening), which also provides for fresh driving dynamics. The three-part screwed Work VS XX-light-metal wheel rims with their stars in matte "Gunmetal" are also put in the best light this way; at the front, the 9x20 inches ET32 size is used – at the rear even a full 11x20 inches ET32. The fine wheels were equipped with Dunlop Sport Maxx high-performance tyres in 245/30R20 and 285/25R20 respectively. The long front end of the vehicle is given added stiffness by the Wiechers dome rod installed under the bonnet. The Eisenmann end muffler with its 76 millimetre double-end tube emphasises the deep six-cylinder sound of the Z4 3.0i audibly. JM Cardesign took action in the interior as well. Various interior parts like the dashboard cover, entrance bars, steering wheel spokes and the gear knob were painted the same colour as the car.
Source: JM Cardesign