K.MAN Audi R8 V8 Bi-Turbo GTK, GTK S and GTK RS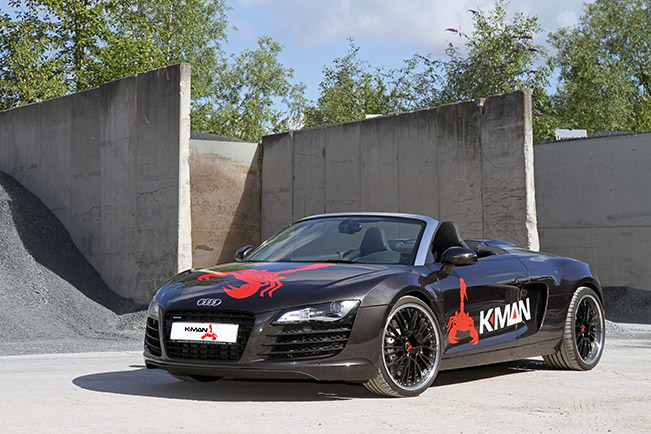 Chiptrick has unveiled their latest project based on Audi R8 4.2 liter V8. The name of the project is K.MAN and it is available in three powerful versions – GTK, GTK S and GTK RS. There are also some styling improvements as well.
Stage I – GTK – boosts the engine to 590HP (434 kW), which is an increase of 170HP compared to factory's power. The GTK weighs just 1,680 kg (3,704 lbs), so it has a power-to-weight ratio of 2.85 kg/HP.
Stage II – GTK S – offers 640HP (471 kW), a power boost of 220HP. The power-to-weight ratio is 2.64 kg/HP.
Stage III – GTK RS – has whopping 750HP (551 kW), an increase of 330HP. The power-to-weight ratio is impressive 2.27 kg/HP.
No words about acceleration 0-100 km/h, but it is around 3.0 seconds. Still, Chiptrick revealed information for 0-200 km/h times – GTK 11.9 seconds; GTK S 11.4 seconds and GTK RS 10.6 seconds.
Other highlights include Club sport chassis frame and a reinforced brake system for the top-of-range GTK RS. There is also a manual gearbox for all performance stages.
Optionally, K.MAN also has a wide range of carbon and GFK parts for those who prefer a little extravagance, and this allows K.MAN to offer individual identities from "cautiously different" up until the radical "DTM looks".
Source: K.MAN