Kahn Mixes the Defender with Chelsea Wide Track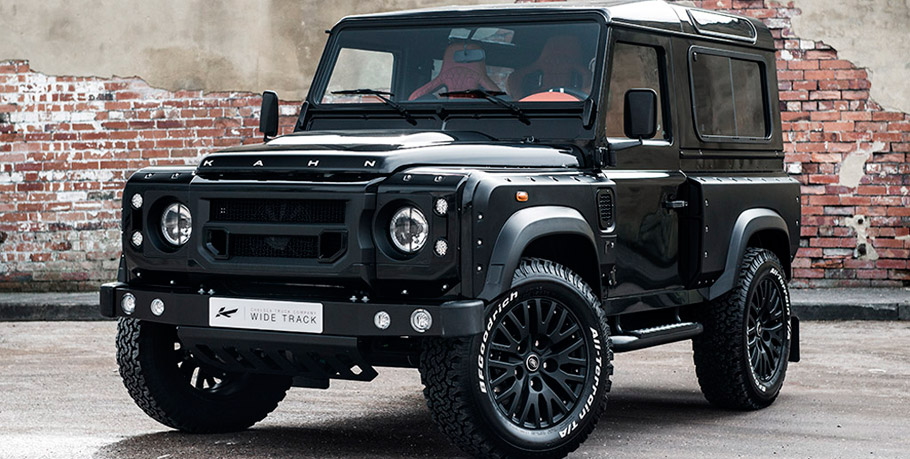 Chelsea Wide Track is a name which we usually see standing behind A. Kahn Design's creations. This time, under the expertise of the tuner we see the favorite to many Land Rover Defender TDCI 90. The specialists have changed not only its face, giving it more muscular stance, but also added some exclusivity inside.
At first, let's take a look at the new design of the Defender. The team at Kahn replaced the original front bumper with new one that includes integrated lights, sump guard, mesh and X-Lander front grille. Then they have added Satin Black extended front and rear wheel arches which also have integrated vents and exposed bolts.
The hood is also covered by the mesh, as are the fender and side vents. At the back we see the spare wheel cover delivered by the Chelsea Truck Company. There is actually something more prominent that catches our attention and it is the stainless steel cross-hair exhaust system.
When we take a look at the sides of the car we see new alloys. Namely, they are 1983 RS Defend in satin black finish. Behind all four wheels we spot rubber flaps and liquid red-painted brake calipers.
Proceeding further, the boring interior of the Defender has been made very sunny and inviting. The front and rear sports GTB seats come in the exuberating orange color of the quilted and perforated leather contrasted by black accents and stitching. What we also see inside are the one-off black Churchill time clock, billet machined leather steering wheel and aluminium ventilated foot pedals.
The centre dashboard surround is now in Piano Black, while the centre glove box was wrapped in quilted and perforated leather and the roof headlining in Alcantara. Unfortunately, only those inside will enjoy this lavishness of material, because everything is hidden behind a dark-tinted privacy glass.
Source: A. Kahn Design