Kahn LE Range Rover Sport 3.0 SDV6 RSE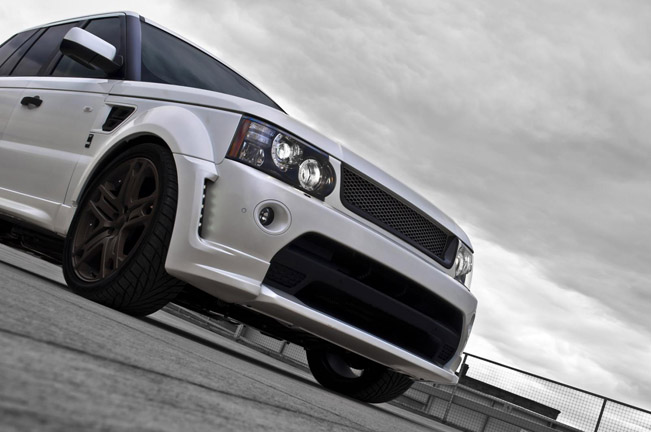 If you want to experience driving a uniquely styled vehicle: A Kahn Design's latest innovation features a seductive mix of triple pearl white livery and invigorating performance.
Having successfully passed rigorous tests at Kahn Design H.Q, the Kahn LE Range Rover Sport 3.0 SDV6 RSE boasts an imperious driving position which would not look out of place in L.A, London or Shanghai.
Featuring the kind of treatment that makes A Kahn Design's bespoke vehicles a favourite amongst discerning clients; the Kahn LE Range Rover Sport looks immaculate.
Ensuring the Range Rover's already flawless lines continue: an aerodynamic kit consists the extended front lower lip spoiler, front bumper A-frame in matt pearl grey, front wheel arch led strips, RS front grille surround insert in carbon, RS front grille with 3D mesh, RS vented front wheel arches with integrated front and rear air dams, brake calipers finished in liquid gold, carbon tailgate trim, door handles in matt pearl grey, exhaust side vents, anti reflective privacy tinted glass, Kahn branding and a quad oval exhaust system all draw you in like a guiding light.
Inside is the 'bespoke touch', and this particular vehicle is available with an RS style diamond quilted, perforated leather interior with carbon inserts and contrast silver stitch, centre glove box (diamond quilted with carbon stripe), clock bezel surround finished with Swarovski diamonds, diamond gear selector, floor mats (black charcoal finish), Kahn illuminated door entry sill plates in stainless steel, speedo & rev counter facia in silver, vented foot pedals in machined aluminum, churchill time clock facia in silver, dashboard cross stitching and door panel tops in quilted and perforated leather with silver stitching.
Inside is the 'bespoke touch', this particular vehicle comes with an RS leather interior in black with grey insert panels, quilted glove box, door tops and instrumental binnacle, blue and yellow speedo and rev counter, blue time clock with black Swarovski bezel, Kahn billet steering wheel finished with grey top and bottom sections.
However, we always provide our customers with what they want. And Afzal Kahn could, for example, design for you a vehicle with an exterior the colour of your jeans and an interior with seats akin to the shade of, let's say, a grey t-shirt. Customers could also change the colour of the clock, or ask for anything else, the world is their oyster, so to speak. Kahn wheels sit perfectly, on any vehicle, conveying the essence of the vehicle's identity.
Created using state-of-the art manufacturing and materials technology, the Kahn RS 600 wheels are available in 22" and finished in matt pearl grey. With simple clean lines, soft organic surfaces on the edge of the spoke and a purposeful mechanical centre, the RS-R wheels are synonymous with elegance and innovation.
A. Kahn Design is for the individual who will not submit to a life of uniformity and who will only accept perfection. Dedicated to the creation of luxury bespoke vehicles, we redesign the ordered monotony of mass produced vehicles and rebuild them into individually tailored creations.
Source: Kahn Design