2012 Kahn Range Rover Evoque Red
Here's a presentation of the first Range Rover Evoque which was recently tuned by A.Kahn Design. Afzal Kahn received much appreciation for fashioning this unique vehicle. It is interesting fact that over 90 percent of Evoque customers are 'newcomers' to the product. More importantly they tend to be younger, living in the city and among them are far more women than man. Therefore this Evoque has already been snapped up by glamour model Katie Price's protege – Amy Willerton.
To go further into details, the magic that has been put on the Evoque by Afzal Kahn's, includes even excitement, which brings the vehicle to brand new level. First of all 2012 Kahn Range Rover Evoque Red features the red smooth contour, by which it is immediately recognizable. Moreover it offers astonishing styling package, which consists of a lowered suspension (35mm), yellow calipers, aluminum pedals, (full body color coding/detailing available), privacy glass, touch screen sat nav and adaptive front headlamps all draw you in like a guiding light. And what about the interior of the vehicle? Of course, it also has been touch with bespoke professionalism. However, A. Kahn offers the unique opportunity to every customer to express their own individuality. Afzal Kahn could, for example, design for you a vehicle with an exterior the color of your jeans and an interior with seats the same shade of lets say, a grey T-shirt. Furthermore Evoque the unique unique RS600 wheels, which are available in 20" 21" 22" size. Nonetheless, additional wheels are also available.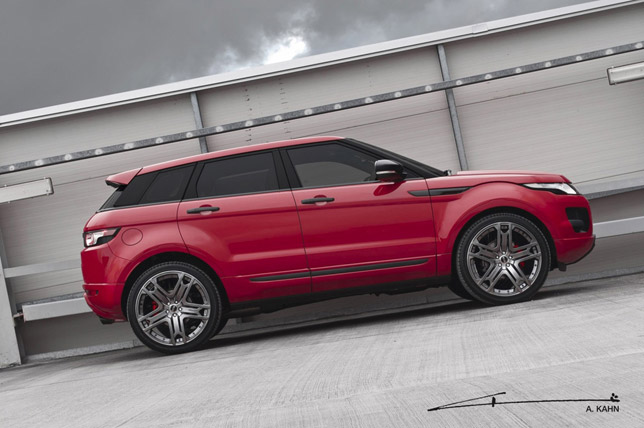 This brilliantly tuned Range Rover Evoque, is the perfect example of the philosophy of A.Kahn Design – to bring together the artistic innovation and state-of-the art manufacturing and materials technology. At last to be emphasized is that the tuning company is all about creating something unmatchable then before by refining and enhancing every aspect of the vehicle.
Source: Kahn Design