2012 Kahn Range Rover Evoque Vesuvius - Exceptional and "Screaming" for Attention
2012 Kahn Range Rover Evoque Vesuvius is the latest creation by the exceptional UK-based tuning company Kahn Design. Since its last modification on Range Rover Evoque became highly appreciated and received much acclaim, the designers have decided to make another exceptional tuning on the same model.
What we can effortlessly see is that the so called "Vesuvius" tuning brings even more style and charisma to the Evoque model. This visual appearance will undoubtedly satisfy any customer, who wants to be unique.
Kahn's Evoque Vesuvius is entirely colour coded, in terms of interior and exterior. The visual appearance is striking and "screams" for attention. I am pretty sure it receives it whenever it runs through the streets.
As you can see this modification is made with the outstanding craftsmanship of Kahn Design's tuners. A lot of attention has been put on every detail thus giving it more elegance, styling and charismatic stance.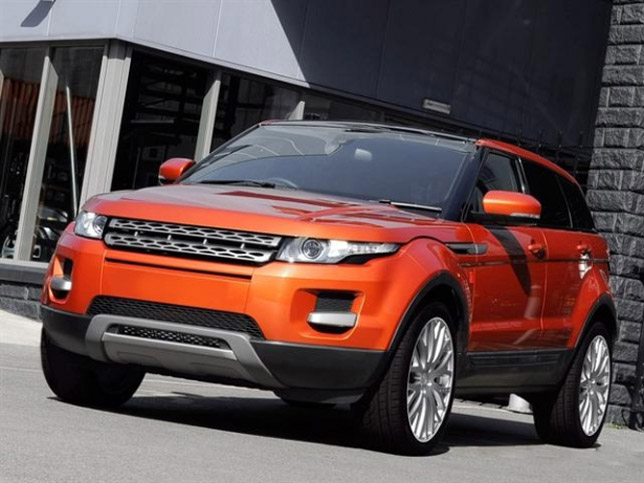 In particular in the exterior modifications are included: Front Bumper Section in Matt Pearl Grey, Front Bumper Section in Matt Pearl Grey, Rear Diffuser in Matt Pearl Grey, Side Vents in Matt Pearl Grey, Vented Foot Pedals in Machined Aluminum, Brake Calipers Finished in Vesuvius Orange, Carbon Tailgate Trim, Diamond Gear Selector, Door Entry Sill Plates in Stainless Steel, Lowered Sports Suspension.
Furthermore, an additional twin Crosshair Exhaust System in Stainless Steel has been centered on a radical design. It captures and reflects an attraction to a Pluto-matic lifestyle.
On the other hand the interior of this tuned Evoque is no less exceptional and unique. In fact, this model has astonishing interior through which anyone can recognize high-quality of craftsmanship.
In short- the interior has been upgraded to a magnificent level with the help of: door panel tops in quilted and perforated leather with orange stitching interior; floor mats – black charcoal finish; piano black trim to gear surround; red rev counter; red speedo; black quilted and perforated leather with alcantara inserts and Vesuvius orange leather detailing.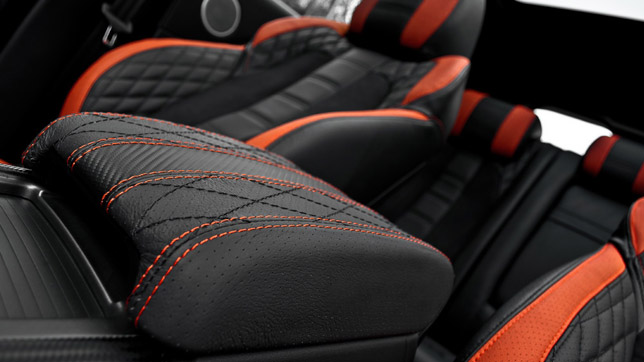 At last but not least there has to be mentioned the wheels that this Evoque sits on – namely the unique RSXF wheels. They are a product of the evolution of artistic innovation and state-of-the art manufacturing and are available in 9×21 inch size.
2012 Kahn Range Rover Evoque Vesuvius is available for £ £48 875.
Source: Kahn Design