Kahn Teaser RS250 Range Rover Evoque
This is something new. Kahn Design releasing a teaser? Must be something big. In all honesty, it is big. A Range-Rover Evoque kind of big. It's will be called the RS250 and all we have for now is this sketch. The release date is set for sometime in July this year.
As we have established, the base product is an Evoque. And that's a hard piece of motoring to ruin. The sketch looks good but those LEDs on the side of the bumper simply seem too much. But hey, it's a fashion statement so why not.
Rather surprisingly however, the overhaul will go beyond that. Yes, there will be an engine upgrade which is still kept in secret. Also, the whole program will be divided into two stages – 1 and 2.
Stage 1 will include a front bumper complete with fog lights and 3d mesh inserts (the upper grille will also be new with 3d mesh). Count the LED in as well. For the back a bumper is intended, that has diffuser which houses the tips of the stainless steel twin central crosshair exhaust system. A bootlid spoiler complements the whole look. The Evoque's stance should be lower as well. And meaner with the 22" RS-XF alloy wheels. As a finishing touch there's going to be a hood/roof stripe painted on.
Stage 2 will further add wide wheel arches (as if the Evoque lacks that), side skirts and a roof spoiler.
This being Khan Design, one can imagine that the whole program can be rather flexible – additional components for the exterior and the interior as well, will be available.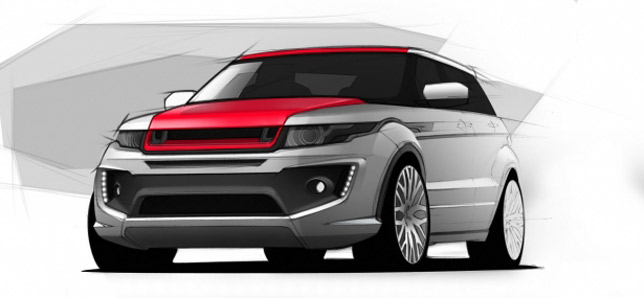 Source: Kahn Design