2012 Kahn Vesuvius Orange Range Rover
2012 Kahn Vesuvius Orange Range Rover Sport is the name of the latest tuning made by the exceptional Afzal Kahn.  What you might don't know here is that the Vesuvius is a style and concept originally developed by Kahn which has been copied by many since then. Now, the designer is coming up with new revamped 2012 model of this range rover sport Vesuvius.
It carries a range of upgrades which include improvements in terms of performance, fuel efficiency and gear ratios. Even more, the vehicle receives as well an upgraded audio and infotainment system with the new generation's seven-inch touch screen which features the dual view technology and rear-seat entertainment with screens mounted in the front headrests.
Furthermore, there are also enhancements regarding the exterior, which is now fitted with Kahn LE exterior upgrade. It includes a wide track aerodynamic styling package with vented wide wheel arches and integrated LED daytime running lights, quad stainless steel exhaust system, liquid gold calipers, RS front grille with 3d mesh, grille insert in carbon fibre, exhaust side vents and Kahn branding.
Paint detailing includes: matt pearl grey door handles, Vesuvius orange side vents and a grille surround. What is more important here is the 3.0 liter SDV6 diesel engine, which now produces an improved 256hp (188 kW) at 4,000rpm with maximum torque of 600Nm(443 lb.-ft.) at 2,000rpm.
This engine utilizes a parallel sequential turbo charging system which enhances the throttle response with a maximum torque already available from only 2,000rpm. The 3.0 liter diesel delivers 500Nm (369 lb.-ft.) in only 500 milliseconds from idle. What this basically means in that it offers instantaneous access to 83 percent of maximum torque in the lower rev ranges.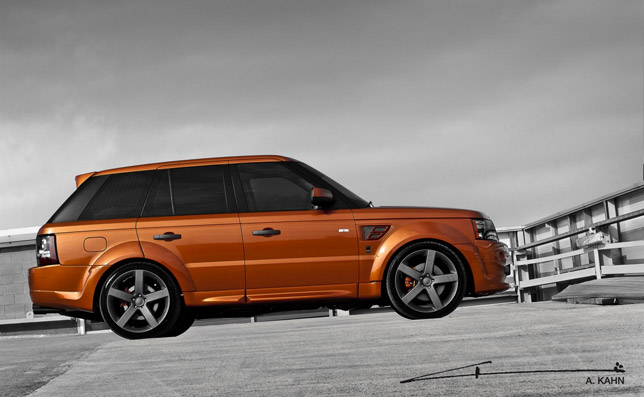 Moreover, the engine is linked to the ZF 8HP70 eight-speed automatic gearbox. The latter now offers smooth shifts and improved fuel economy. What is specifically interesting around the gearbox here is that it as brains. In general, this means that when it is in hot conditions it selects a lower gear to run the engine and air conditioning pumps faster to cool down the cabin quickly.
On the other hand, when operating inn cold conditions it runs the engine faster to reduce warm-up time and emissions. The 2012 Kahn Vesuvius Orange Range Rover Sport has also been equipped with the Drive Select rotary gear shift and steering wheel-mounted paddle shifters. Factory options include: Electric glass sunroof, rear view camera, front and rear parking sensors, power folding mirrors, colour satellite navigation, Harman Kardon surround sound iPod.
How about the interior of the vehicle: it is completed with the Kahn LE interior package. The latter consists of bespoke RS front and rear seats in diamond quilted perforated black leather with Vesuvius orange inserts, matching centre arm rest and door tops, carbon fibre interior facia trim, speedo and rev counter in red, diamond gear selector, Churchill time clock with Swarovski diamond bezel, Kahn illuminated sill plates and machined foot pedals.
Furthermore to be mentioned here is that this vehicle rides on 22" Kahn RS wheels finished in the color of customers choice and fitted all original centre caps. With this important addition, now the Vesuvius looks even more elegant and innovative.
Of course the Orange Range Rover is available in petrol and diesel models, both in right hand or left hand drive. The 2012 Kahn Vesuvius Orange Range Rover Sport is available for £73 875.
Source: Kahn Design