Kia Naimo Concept
KIA will stun everybody with the introducing of Naimo electric concept car at the Seoul Motor Show today. The car combines Korean heritage with innovative modern features.
The name is taken from the Koren word "Ne-mo", which means "square shape". Kia Naimo is an electric crossover utility vehicle (CUV).
The car has a lot of staggering details like wrap-around windscreen and asymmetric sunroof, and the front and rear dot-style LED head- and positioning-lamps. When you combine all that, you have Naimo.
"Naimo is a perfect balance of innovation, high-tech and Korean tradition.  It was heavily inspired by the purity and grace of traditional Korean arts and crafts, but combines this with cutting edge technologies to deliver a truly premium experience," said Kia Motors' Chief Design Officer, Peter Schreyer.
Naimo measures 3 890 mm in length, 2 647 mm wheelbase, 1 844 mm in width and 1 589 mm in height. The interior room is more than enough for the occupants.
KIA Naimo is powered by a 109PS (80 kW) and 280Nm of torque coming from a Permanent Magnet Synchronous Motor. The top speed is 150 km/h (93 mph). The motor is supplied by a  twin-pack 27 kWh battery, which is located under the boot floor and uses innovative Lithium Ion Polymer technology. The electric vehicle can go up to 200 km (124 miles). To enhance range, the showcar is fitted with special low-drag 20-inch diameter alloy wheels.
Under the quick recharging cycle (50 kW) the Naimo's battery can be recharged to 80% of its capacity just within 25 minutes.  Under the normal cycle (3.3 kW), 100 percent power is attained after five and a half hours.
KIA Naimo is just amazing car and we can't wait to see, whether it will go in production.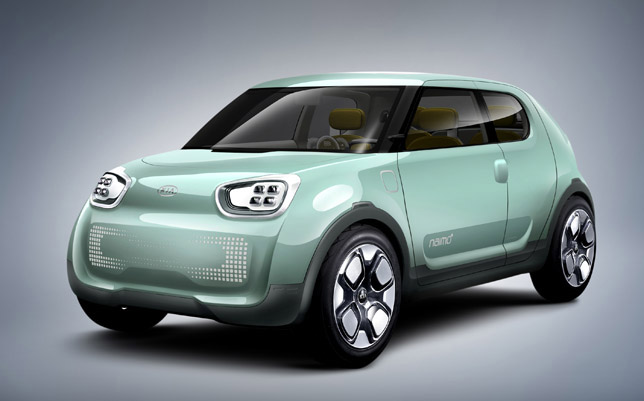 Source: Kia