Kia wins a 2009 'red dot' Design Award
Kia's stylish and fun urban cross-over car, the Soul, has become the first Korean car ever to receive the prestigious recognition of a design award from the world renowned 'red dot' awards at the 2009 product design competition held in Germany.
With more than 3,230 entries from 49 countries in 17 different categories, the newly-launched Kia Soul was selected from the 'Automobile Transport and Caravan' section to receive this design accolade.
Welcoming the announcement of the 'red dot' award, Kia's Chief Design Officer, Peter Schreyer commented, "Our design teams in Korea, California and Europe can be very proud that Kia Soul has achieved this prestigious recognition. Kia's design strategy is focusing on distinctive product solutions and the development of a unique Kia family look. This award is a clear reward for Kia´s determination to establish design as one of the key components of its corporate DNA."
The Kia Soul's architecture delivers emotional appeal as well as functionality. The Soul embodies Kia's image shift towards a design-driven company with products that consumers will aspire to own.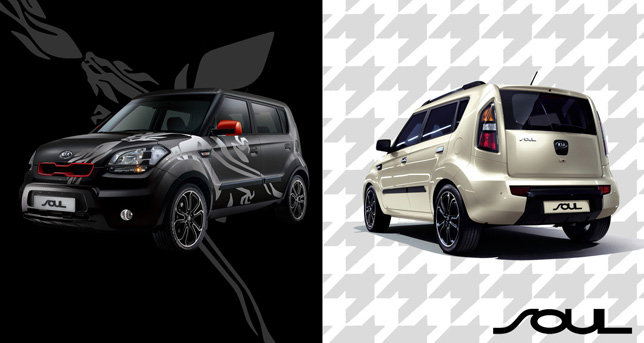 Kia is confident that when customers first experience the new Kia Soul, they are going to be deeply impressed by its style, colours and quality. There are several unique aspects to the experience of sitting in the Soul with its unusual combination of spaciousness for passengers and cosiness for the driver, generating a very special ambience.
Every Soul comes with generous standard equipment and a wide range of unusual options (depending on individual markets), that include an Upgraded Sound System with 'Sound Sensitive Mood Lighting' (illuminated speakers that 'pulse' in time with the music), a 315 watts output, a large dash-top centre speaker, external amplifier and a sub-woofer in the trunk for a total of eight speakers.
Challenging consumers to rethink everything they know about Kia…
"The Kia Soul defies conventions and offers buyers a new freedom in style, a new shape and new power of expression," explained Panu Vainamo, General Manager Marketing, Kia Motors Europe. "It's a brand new urban car that encourages consumers to rethink everything they know about Kia. The 'red dot' award will enhance brand awareness of Kia and strengthen the Soul's position in our marketplace.
"We have already had excellent responses from customers since launching Soul. This award will further ensure that consumers in our showrooms are happy to convert their initial emotional attraction to Soul into a purchase decision, without worrying that their heart might be unwisely overruling their head," added Vainamo.
Promoting good product design since 1955
The 'red dot' international judging panel scrutinised every entry and rated its performance against a list of nine core criteria: innovation, functionality, formal quality, ergonomics, durability, emotional impact, product accessories, ease-of-use and environmental compatibility.
The 'red dot' design award judging panel for 2009 was comprised of 29 independent working designers and academics from all fields of creative activity. The international make up of the judging panel is as varied as the wide range of entries with judges from countries as far afield as Mexico and Sweden, Chile and Israel, Finland and South Korea many among others.
Regarded as the world's largest annual design competition, the 'red dot' design award has its roots back in 1955 and has been an international design competition since 1991. The driving force behind the red dot awards is Professor Dr. Peter Zec and the Design Zentrum Nordrhein Westfalen in Essen, Germany. The DZNW museum, which is housed in the former Zeche Zollverein colliery redesigned by British architect Lord Norman Foster in the late 1990s, is known locally as the 'cathedral of industrial culture' and attracts more than 140,000 visitors each year.
The 2009 'red dot' design award presentation will take place in Essen's Aalto-Theater on 29 June 2009, with the award winning products going on display at the DZNW museum from 30 June 2009 on, for one month.