An Exclusive Maybach 57S By Knight Luxury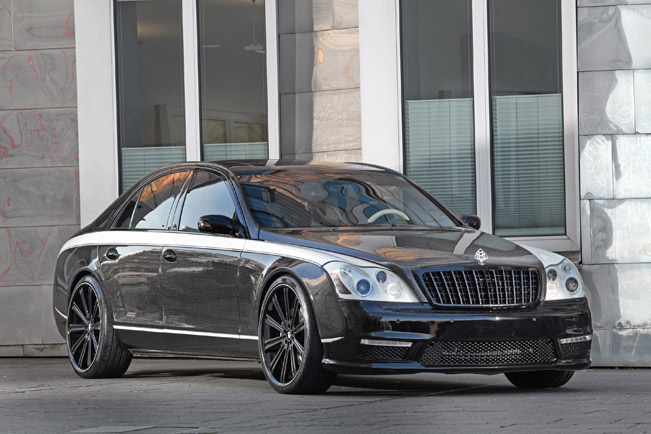 Meet Mr. Toby Knight, the founder of Miami-based Knight Luxury Inc. He firmly believes that the "failure" of the Maybachs around the world is partly due to their unsophisticated design. Would love to know how he feels about caviar hors d'oeuvres. Too rustic maybe? Main point: This is the $1,000 000+ Sir Maybach 57S project by Knight Luxury. Let's see how things have gotten from unsophisticated to unparalleled.
The front apron and the back-end bumper seem to be the only non-carbon pieces left on the car, yet they are new as well. The latter hosts a carbon fiber diffuser, while the former sports a set of LED daytime running lights. As for the rest (hood, trunk lid, all four wings, all pillars and all doors), it's carbon fiber all the way. It's all very light but we don't get to see the Sir on a scale, which is a pity. Apparently, if you open the hood carbon air filter boxes and a carbon engine cover will glare at you.
Four 24-inch inch wheels measuring 9.5 inches at the front and 10 inches at the back The wheel rim stars are carbon-finished and painted, while the wheel beds are black powder coated. A 285/30 R24 tire fits all wheels.
A 4-pipe sports exhaust system with valve control provides the appropriate soundtrack, while a LED underbody lighting gives that extra pinch of drama. Yeah, lights under the car spell sophistication, apparently.
Moving on to the inside, you are greeted by a black and white dashboard, an ergonomic sports steering wheel with red Kederrand. The door covers, the foot wells and the door sills are all clad in diamond stitching. The trunk too is lined with diamond patterned leather. In total 28 parts inside were replaced with white carbon counterparts and 39 parts, again inside, were replaced with back carbon. Interior ambiance is achieved through an indirect UV black light inside.
In terms of connectivity, the Sir Maybach comes complete with an Apple TV module, two iPads and an Apple keyboard accessible to the rear passengers. Among the arsenal of gadgets are also an LTE wireless module and a GPS tracking module.
Source: Knight Luxury