KW 2014 BMW 2-series M235i - Adaptive DDC Coilovers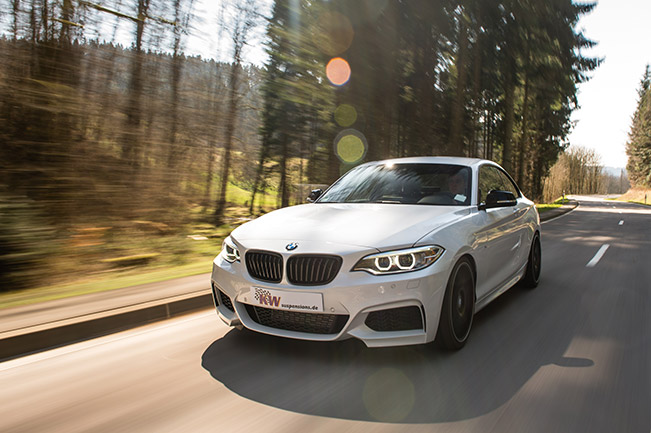 KW has already introduced coilovers in Variant 1, Variant 2 and Variant 3 types for BMW 2-Series and now the tuning company offers adaptive DDC coilovers for all models in the range. The adaptive suspension comes with stainless steel coilover bodies and is compatible with the original BMW electronics.
The driver is able to choose between a comfortable or a sporty suspension setup through "BMW Driving Experience Control". The KW DDC plug&play coilovers allow an adjustable lowering between 25 to 50 mm, not only to improve the stance, but the handling as well. Pricing is available upon request including installation.
As a reminder, the 2-Series M235i is powered by a 3.0-liter TwinPower Turbo inline six-cylinder engine – 326HP (240 kW) and 450Nm (322 lb-ft) 0-100 km/h in 4.8 seconds and a top speed of 250 km/h (155 mph). The engine is connected to an 8-speed ZF automatic gearbox. The fuel consumption is decent 7.6 liters / 100 km on combined cycle.
2014 BMW 2-Series Coupe is 4,432 mm long; 1,774 mm wide; 1,418 mm high and has a 2,690 mm wheelbase. The boot space is 390 litres, which is 20 litres more than 1-Series Coupe. The BMW 2-Series Coupe also boasts more efficient aerodynamics than both the BMW 1-Series and its predecessor, as reflected in a Cd of 0.29. The curb weight is 1,470 kg.
There is no doubt that, the 2-Series M235i fitted with KW DDC plug&play coilvers will be the ultimate track toy suitable for everyday driving.
Source: KW