KW Coilovers for the New Audi A3 Notchback Sedan [VIDEO]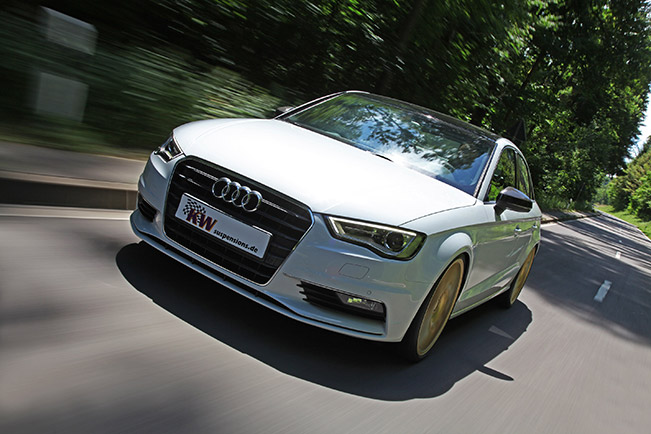 The market and automobile innovative leader KW has been succeeding in providing Audi with the best upgrades possible. Now the tuner's most recent target is Audi A3. The positive launch of the four-door sedan is taking a level up and climbs one step up in its segment thanks to the new KW coilover suspension kits.
There are three different coilover variants, each of which offers thrilling handling and driving dynamics. The Variant 1 KW coilover kit equips the new Audi A3 notchback sedan with extra rebound damping adjustment and adds a significant value on a variable lowering. With Variant 2 and Variant 3 (the latter comes with separate rebound and compression adjustment), customers are enabled to adapt the damper setup even more depending on their preferences. Thus, the KW coilover suspension Variant 2 allows the driver to meet his or her individual driving demand by changing the handling and ride comfort with 16 exact clicks with the integrated rebound damping adjustment.  Variant 3, on the other hand, allows via the separately adjustable compression damping with twelve clicks to take influence on rolling motions of the body, without having the need to alter the rebound damping.
What makes the new KW suspension kit so special and very desirable is the fact that the rebound and compression damping can be adjusted separately from each other. All three versions of the coilovers are made from stainless steel. With them, there is available a continuous lowering of up to 60 mm. As a result, at the front axle, the German TÜV-tested adjustment range for the gorgeous Audi A3 sedan is between 30 and 60 mm and at the rear axle between 30 to 55 mm.
If you want to see the complete KW technology, check the link bellow.
Source: KW Video Source: KW via Youtube