Kylie Minogue and the Lexus CT 200h
The personal car of Kylie Minogue – Lexus CT 200h was sold for £29,000 for the NSPCC as the star item in a fund-raising auction for the charity's helpline.
"I would just like to say a huge thank you to the generous bidder who bought my personalised Lexus CT 200h, which I have been driving around for the past year.", said Kylie.
"We were delighted to team up with Kylie Minogue to donate a Lexus CT 200h to the auction. Kylie, who is the face of the Lexus CT 200h, has been driving the car throughout 2011 so it really is a unique prize, and I'm delighted it has raised so much money for the NSPCC.", added Richard Balshaw, Lexus Director.
The special vehicle was used by the singer as her day-to-day transport and this special association was marked by the addition of personalised headrests with Kylie's signature picked out in the upholstery stitching.
The CT 200h is powered by a 1.8 litre VVT-I four-cylinder petrol engine with 99PS (73kW) and 142Nm (105 lb-ft) of torque. The powertrain also features an electric motor and the combined power bumps to 136PS (100 kW) and 207Nm (153 lb-ft). The performance is decent – 0 to 100 km/h in 10.3 seconds, but the fuel consumption is amazing – 3.7 litres /100 km on city cycle.
The standard equipment of CT 200h includes – 16" or 17" rims, dual-zone climate control, a USB port and Aux socket for connecting portable music players, Bluetooth for mobile phone connection and audio streaming, front fog lights, automatic wipers and dark-tinted rear privacy glass.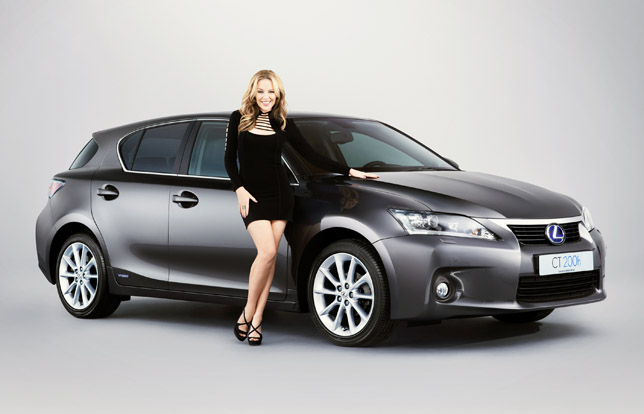 Source: Lexus