Lamborghini Aventador vs. F16 Fighting Falcon [HD video]
Here is a nice battle between two "jet fighters" - Lamborghini Aventador vs F-16 Fighting Falcon. Of course, the first one only looks like an airplane, but the second is a real fighting machine.
The Aventador is powered by a 6.5 liter V12 with 700PS (515 kW) and 690Nm (509 lb-ft) of torque. 0-100 km/h in 2.9 seconds and a top speed of 350 km/h (217 mph). The engine is mated to an Indipendent Shifting Rod (ISR), which is able to shift in just 50 milliseconds. It sends all the torque to a permanent AWD.
The kerb weight of the vehicle is 1575 kg (3472 lbs).
The F-16 Fighting Falcon has is powered by a F110-GE-100 afterburning turbofan with maximal power of 127kN (28 600 lb-ft). The jet fighter has a top speed of 2410 km/h (1500 mph).
Which is faster? Check out in the video below!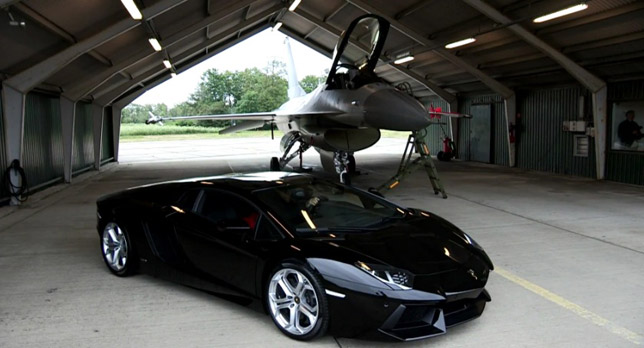 Source: BilMagasinetTV via Youtube