Lamborghini Aventador vs Madness Motorsport Audi RS6 - Drag Race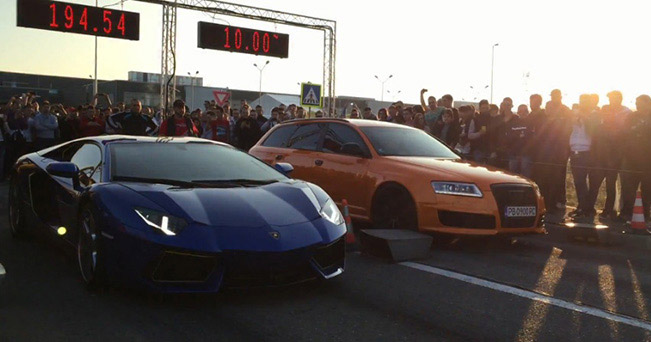 Power, noise, high speed and high-class performance? You can enjoy all that in this drag race between Madness Motorsport Audi RS6 vs Lamborghini Aventador LP700-4.
Yet, more or less, the result has been quite obvious. With its 5.0 V10 bi-turbo tuned to Stage 4 engine, Audi RS6 produces up to 900HP (671 kW) and over 1,000Nm which makes it a piece of cake for it to outrun the Aventador LP700-4. The trap speed of Audi RS6 is rated at 218.92 km/h at the drag race.
Powered by 6.5 liter naturally aspirated V12 engine, the Lamborghini makes up to 700HP (522 kW) at 8,250RPM and 690Nm (511 lb-ft) at 5,500RPM. The engine of the Lamborghini is connected to a 7-speed ISR transmission sending the power to an AWD system. The car reaches 0-100 km/h in 3.0 seconds, 0-200 km/h in 8.6 seconds and 0-300 km/h in 24.5 seconds. Even though according to Lamborghini official statistics the Aventador covers ¼ mile in 10.2 seconds with 219 km/h and 1 km in 19.1 seconds with 281 km/h, the truth is slightly different. Coming to a conclusion after observing the race, the car is not as fast as it is proclaimed to be. In fact, what Lamborghini Aventador demonstrates in the video is that, in reality, it makes ¼ mile in 10.930 seconds with a trap speed of 209,10 km/h. It is not surprising, then, that Audi RS6 has performed faster and far better than the Aventador.
On a side note, apart from being more than just exciting to watch the finale of this "battle", it cannot be left unnoticed that there has been a lack of responsible organization and behavior. The potential risk of bad consequences has been increased due to not keeping enough and safe distance between the observers and the racers. Of course having fun is crucial, but thinking and acting responsibly is even more so.
To watch the race click on the link bellow.