Lamborghini Gallardo Toro by DMC
DMC Design has announced their tuning package for Lamborghini Gallardo. The project is called Toro and features both styling and performance upgrades.
The exterior comes with complete body kit made of carbon fiber. It includes a new carbon fiber front lip spoiler streches the Gallardo, makes it's look more aggressive and supports downforce on the front axle. New carbon fiber side panels as well as added carbon fiber side diffusers make the car wider, more stable on the road, and add a salient aura. In addition, DMC added a new carbon fiber rear spoiler wing on the top, and a bigger carbon fiber rear diffuser on the bottom, both supporting improved aerodynamics of the car.
The tuned sports car roll enormous 9.5J x 20" front wheels and 13J x 20" at the rear axle fitted with performance tires.
Speaking for performance, DMC boosted the mighty 5.2 liter naturally aspirated V10 to 580HP (427 kW) and 575Nm (424 lb-ft) of torque. Additionally, a sports exhaust system is available adding another 20HP (15 kW). With the upgrade, the top speed is 330 km/h (205 mph).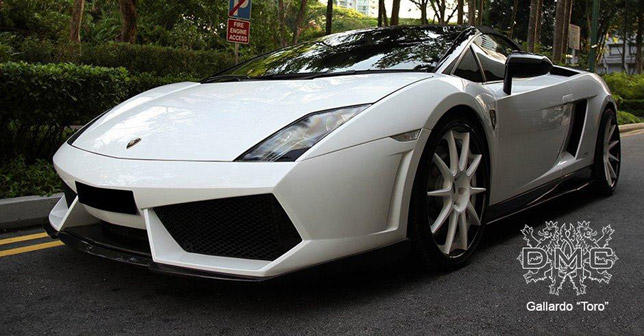 Source: DMC