Land Rover Discovery Vision Concept Revealed!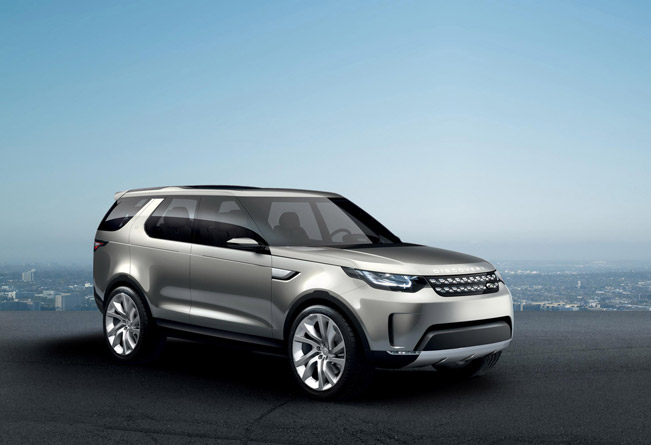 Land Rover Discovery Vision Concept is undoubtedly the news of the day. Brand's new SUV has just been unveiled in New York, presenting the vision of the future family of Discovery vehicles. The first production model of the new series is due in 2015. As one can see, the concept model previews dynamic new design language. In addition, Land Rover has also featured in it a wide range of innovative versatility and capability features as well as technologies.
A day ahead of the opening of the 2014 New York Auto Show the car was showcased at a spectacular event aboard the USS Intrepid – a sea, air and space experience centre – in Manhattan.
One of the new elements featured in the new DiscoveryVision Concept is its unique stepped roof. On the other hand, the advanced interior is not only spacious but features highly reconfigurable seating. Via touchscreen menu, the folding of the seats flat or their sliding forward or back can be monitored. The result is conversion of the vehicle from its standard seven-seat layout to a six-seat, five-seat or even a four-seat 'limousine' mode.
At the rear, the tailgate has been redesigned and incorporates a powered, single-piece design. The materials used in the Discovery Vision Concept interior feature two innovative types of washable and water- and oil-repellent Foglizzo leather. Wood veneer can be seen on the floors and instrument panel.
In terms of technologies, Land Rover has featured here the next-generation Human-Machine Interface (HMI) technology, Smart Glass, Remote Control Drive, Laser Referencing and many more. Visibility is greatly improved by the powerful, day-like light of the laser headlamps, which feature intelligent object tracking and beam-dipping.
In addition, the company has also added its next-generation Terrain Response, the innovative Transparent Bonnet head-up display system, cameras fitted below the grille are paired with the Head-Up Display integrated into the windscreen, Laser Terrain Scanning with infrared lasers, the All-Terrain Coach, the Wade Aid sensory system that measures the depth of water even before the car enters it and All-Terrain Progress Control.
Land Rover Discovery Vision Concept will definitely lead the brand to unexplored dimensions. We are impatiently waiting to see its production version.
Source: Land Rover