LARTE Desing's Winner Project on Range Rover Sport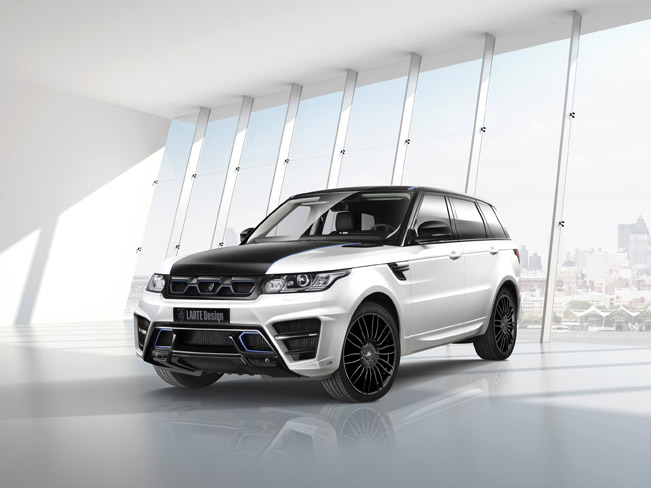 The relatively new tuning company called Larte Design is read to show us its next project dubbed the Winner. It is based on the Range Rover Sport and just like AC Schnitzer's M4 it will be premièred at the Essen Motor Show. The tuners have given this SUV a very aggressive and dynamic face. Just take a look at the unique front guard, which is a real factor when it comes to individuality. It is characterized by three trapezoid frames. Additionally, if you take a closer look than you will find out that there are fine blue demarcation lines there. These blue styling elements can be found at other places and undoubtedly lend this design package more artistic expression.
The various polygons, air inlets and light-steps make the bumper appear very tough. The central part there stands out from the white sides in black, due to its large air grids. The latter visually break up the front's monolithic appearance, thus contributing for more dynamism and sportiness.
We can't go further without mentioning the LED daytime running lights, which were delivered by Nolden. From the front, the eye wanders along the black "sport band", which extends the roof and connects it with the rear.
Furthermore, fine, horizontal lines in a contrasting dark shade lend the rear more muscular appearance. The small spoiler fins and fine air inlets loosen up the design. This tuning becomes dynamic via the boomerang-shaped grids on the sides, stretching into the wings.
There is also a black lower part, characterized by irregular polygons, which is the home of the four-pass Remus exhaust system. The system features black-chrome-plated tail. At last, there is the central LED brake light, which is something like a hallmark of large Larte Desing's SUVs. Oh, we have missed the glossy black alloy wheels.
Source: Larte Design