Lingenfelter Chevrolet Corvette C6 Commemorative Edition
Lingenfelter Chevrolet Corvette C6 Commemorative Edition is powered by the almost unbelievable 750 by its 427 CID Intercooled Twin Turbo engine. The new tuning by Lingenfelter combines the ultimate thrill of wide-open throttle acceleration with a Z51 based hard cornering capability and exceptional braking performance.
Here, in the Commemorative Edition of this Chevrolet model features a hand built 427 CID Gen II twin turbo engine, delivering 750 hp (552 kW) at 730 lbs-ft (539 Nm). The Corvette was carefully crafted and includes the hand built 304 stainless steel turbo manifolds, custom ducting and liquid to air charge cooler system.
The interior of the car is wrapped entirely by custom Caravaggio Connolly leather. In addition what adds to the greatness of the car are the Lingenfelter CES series C6 body kit, massive 345 series Michelin Sport tires on 19"x12" rear HRE forged three piece aluminum wheels, Brembo brakes, serial numbered badges and a lot more.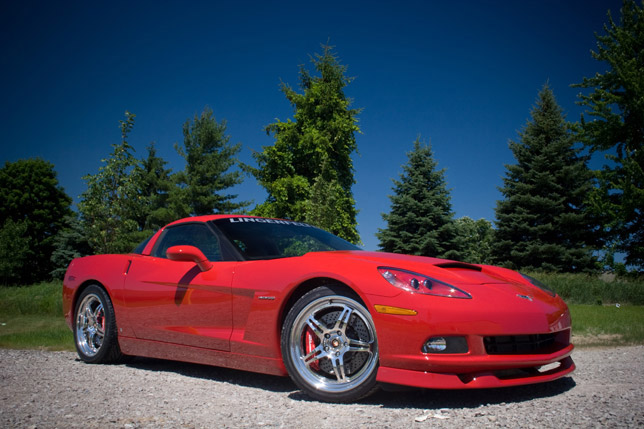 Lingenfelter Chevrolet Corvette C6 Commemorative Edition Specifications:
• 6 Speed manual transmission
• Z51 springs, sway bars & Koni adjustable shocks
• Navigation system with XM Radio
Lingenfelter package includes:
• 750 horsepower 427 CID engine with the exclusive Lingenfelter GEN-2 twin intercooled twin turbo package
• Corsa 304 stainless steel exhaust system – with 4 pro series tips
• Heavy duty dual disk clutch assembly
• Brembo 4 piston calipers, two piece rotors, stainless lines – front & rear with white Lingenfelter logo and victory red paint
• Custom Caravaggio Connolly leather seats, console cover, shifter knob/boot, e-brake knob/boot, steering wheel and duffle bag
• Lingenfelter C6 hood, Lingenfelter front spoiler, Lingenfelter side skirts and unique one piece rear fascia with Lingenfelter logo embossed
• Koni adjustable shocks
• Michelin Pilot Sport tires with Lingenfelter mini tub kit and 345/30/ZR19 series in the rear
• Lingenfelter 756 Series 19″ C6 forged three piece aluminum wheels – by HRE
• Special seat embossing, serial numbered plaque, wheel centers, Lingenfelter chrome fender badges
• Special commemorative C6 coil covers complete with the classic John Lingenfelter signature
• Commemorative Edition Hypertech HyperPac Onboard Diagnostic Computer
• Excellent drivability, highway mileage not adversely affected
Source: Lingenfelter