Racing One's Ferrari is stronger on the race-track with these special LOMA GT COMPETITION rims

Ferrari 458 Italia gets on-track support with one-off LOMA wheels
One of the most triumphant Ferrari-teams in the world is Racing One. Besides leaving nothing to chance, in order to always achieve success they also are updating constantly and developing their innate strengths. By the way, Racing One is a serial winner of the VLN Endurance Championship and it is also an organizer of number of track days.
One of their secrets is that the team is counting on the use of forged wheels made by LOMA. Well, it might sound a little bit strange, but here is why this is so important. The latest developed forged wheel by LOMA is called GT COMPETITION. Its benefits are the innovative spokes ergonomic design, which allows mechanics to change the wheels even faster during critical pit stops. In addition, another advantage is that the spokes fit perfectly into the hand, thus delivering safer and quicker wheel change.
SEE ALSO: LOMA and its Ferrari F12 Berlinetta: Beauty Comes in Simple Modifications
Not to mention that they are also light in weight. This is absolutely necessary for the competitive capabilities of the car. An interesting fact is that this particular rim type was designed and tested specifically for the Ferrari for about two years. The goal was to achieve incomparable result.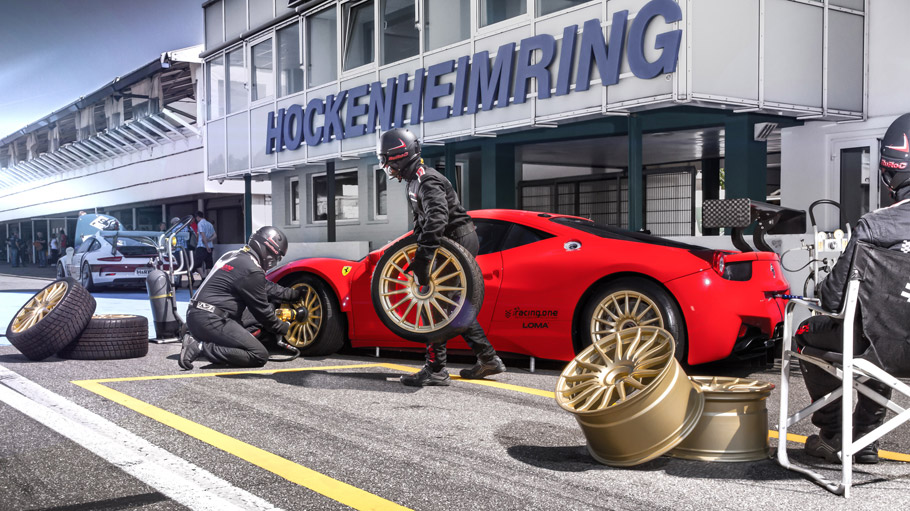 Since they are only used as racing rims, LOMA GT COMPETITION are totally custom and they are not mass produced, so you can't buy them in the local shop. What is more, the offsets can be produced as needed, so that they can enhance the track of a vehicle, while the tire pressure can be aligned with high precision, thus allowing more constant performance.
LOMA is currently offering the GT COMPETITION racing rim in 18- or 19-inch size for all Ferrari 458 of the GT-class and for the Ferrari Challenge models.
Source: LOMA Wheels