Prior Design Transforming the Ferrari 458 Italia

Prior Design is proud to present their latest project based on the Ferrari Italia F458. It is one of their best tunings we have seen so far and we decided to bring it forward to the public. Although 458 Italia is a sports car that barely needs modifications, Prior Design experts were courageous enough to step into fields that other tuners rarely do.
Basically, the conversion comprises not only of a widening aerodynamic kit, but also adds new wheels and tires, additional lowering as well as extra output for the famous car. And here are the steps of the tuning:
PD458WB Widebody Aero-Kit
This is the name of the amount of additional parts added to this Ferrari. As a result, the car is 60mm wider up front and 120 mm at the rear. This has been achieved via various elements like the new front and rear bumper, side skirts with add-on spoiler, the front fenders and the rear widenings. The bonnet is also new and it includes vents. PD also added trunk spoiler and vented engine covers.
SEE ALSO: Prior-Design with Wide-Body Conversion for Mercedes-Benz GT S
The catch here is that if you have enough money, you can order these parts in carbon fiber variant. So in this way you will achieve not only more width, but also less weight.
Wheels & Tires Are Dramatic

Wider proportions need bigger wheels to ride on. Hence, the three-piece forged alloys were added. They were made in-house and measure 21x9,5 at the front and 22x11,5 at the rear. The tires added are of the dimensions 255/30ZR21 and 325/25ZR21 at the front and rear, respectively. They are made by Continental.
More Goodies
Prior Design offers an H&R Sport Suspension on request. It will deliver to your Ferrari 35mm lowering, thus making it more menacing than before. There are also in-house made carbon-fiber engine compartment covers.
Interior
Inside, the car has been completed with leather seats in Alcantara and Nappa. The upholstery was is with red stitching.
PD Exhaust System & Engine Chip Tuning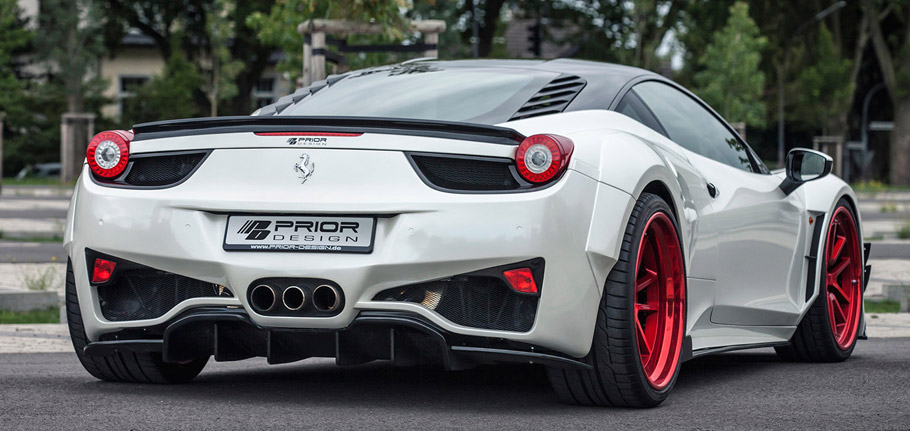 The tuners also ensured that there is a new exhaust system for this car. Precisely, it features 200Cell race cats, manifold and muffler with clap control. The exhaust also serves in terms of power improvement of up to 40PS. In addition, the performance was enhanced via Chiptuning. As a result, the Ferrari is now 30PS and 40Nm stronger.
Have you already enjoyed the gallery below?
Source: Prior Design