Mansory Ferrari 458 Spider Monaco Edition
Hot news from Mansory, the Swiss after-market tuning house: A Ferrari 458 Spider (yes, another one), described as the Monaco Edition. Only three will ever be made and according to Mansory, all will be superior to the production ones in terms of looks and performance.
It seems that no carbon fibers were spared at the company's grounds. That is rather evident by the fact that the Ferrari 458 Spider Monaco Editions are around 60 kg lighter than their standard counterparts. That said, we know that the front skirt has been completely replaced and that goes for the hood as well. At the same time, new side skirts boast big patches of exposed carbon that hide air-inlets for a "steadier" air-flow between the two axles and a greater intake for the engine. Finally, at the back a new bumper houses, again, a carbon diffuser which is supposed to work with the standard rear wing in the name of the holy grip.
By tinkering with the management system and adding a sports air-filter, the Swiss have managed to get the power output up to 590 hp and 560 Nm of torque – that's almost 30 hp and 20 Nm of torque more than usual. Some performance figures: 0 to 100 km/h in 3.2 seconds, Top Speed 330 km/h.
For a moderate sense of security, the Monaco 458 also has a lower center of gravity (by around 20 mm). That's courtesy to the set of sports shock absorbers combined with progressively wound lowering springs. As for wheels, Mansory have gone for their own forged product that comes in sizes 9x11 and 11x21. Wrapped around them are respectively Michelin PS2 tires in VA 245/35 ZR20 and HA 305/30 ZR21 sizes.
As for the interior, it's the usual stuff – Alcantra, leather and carbon. However, one can go wrong with that formula and indeed here all seems a bit over the top – look at those diamond patterns on the seats and door covers! Does that particular one belong to a casino tycoon? The steering wheel is completely new and at the foot well, one would find a set of aluminum pedals.
Think it's a keeper?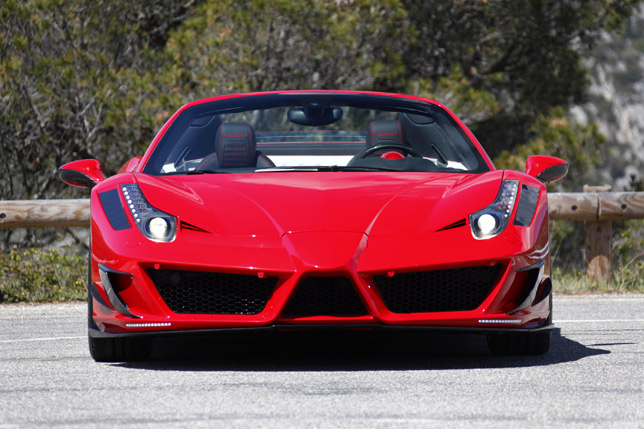 Source: Mansory