Market Launch of the Updated Sports Tourer from 29 November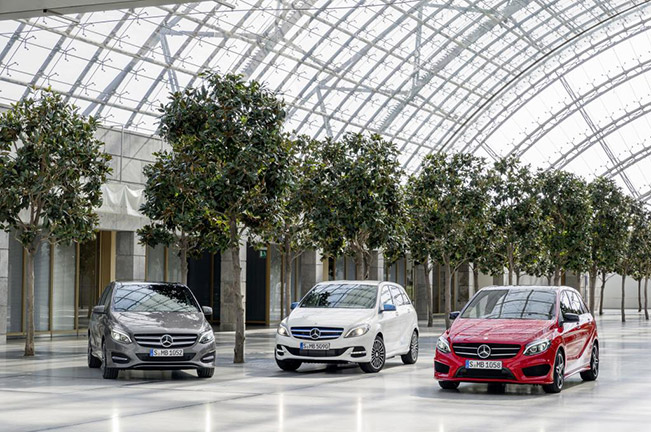 Since its reveal, the new Mercedes-Benz B-Class Sports Tourer has been scoring some really remarkable results. Customers would be pleased to find out that the upgraded Sports Tourer is going to be delivered very soon. The first units of the vehicle are starting on 29 November. This best-selling model has received a major facelift, including exterior and interior changes. The car also undergoes design alterations and equipment lines like the Electric Art line (exclusive for the B-Class Electric Drive) and AMG Line.
The family car arrives with a rich choice in terms of possible engines: four economical diesel models with consumption statistics varying from 3.6 to 5.0 l/100 km, four efficient petrol engines at between 5.4 and 6.6 l/100 km, as well as the B 200 Natural Gas Drive (3.3 to 6.0 kg/100 km) and B-Class Electric Drive (0 g CO2/km) and an optional 4MATIC all-wheel drive. The starting price for the B 180 is 27,102.25 Euros and the B-Class Electric Drive costs 39,151 Euros. Among other features there are the advanced assistance systems COLLISION PREVENTION ASSIST PLUS and ATTENTION ASSIST.
As it seems the B-Class segment gains quite some recognition with satisfied high customers' demands. In 2014 the Mercedes-Benz B-Class won the J.D. Power satisfaction survey in its specific range and, with a figure of 82.4 percent, got the highest satisfaction rating in the customer satisfaction survey. Moreover, in Europe's biggest comparative test based on practical in 2012, 2013 and 2014 Mercedes-Benz B-Class was selected as the company car of the year in the "Small and Compact Vans" category. Finally, the DEKRA used-vehicle report 2014 defined the B-Class as the vehicle with the smallest number of defects in the "Vans" category and later on it won the prestigious title "Vehicle of the Year".
Well done B-Class!
Source: Mercedes-Benz