2015 Mercedes-Benz B-Class - Price £22,575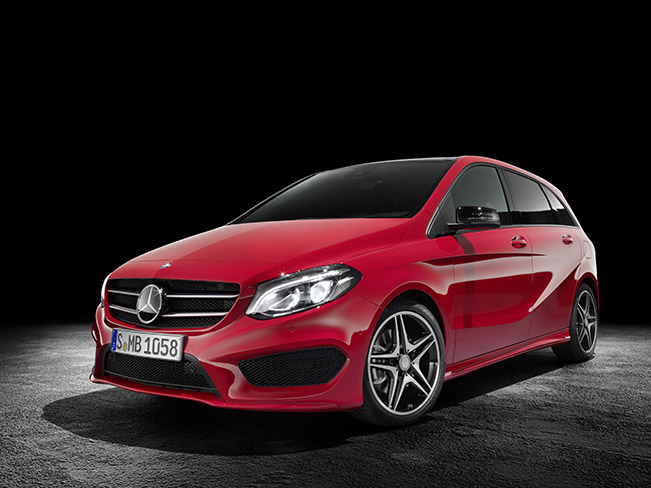 Mercedes-Benz UK is now offering the all-new 2015 B-Class. The pricing starts from £22,575 for the entry level model. The best-selling model from Mercedes-Benz has undergone a major facelift including exterior and interior upgrades as well as an attractive, redefined design and equipment improvements.
"As the first member of a completely new generation of compact class, for us the B-Class paved the way for great success in this vehicle segment. The pioneer is now in better shape than ever," commented Ola Källenius, Member of the Divisional Board Mercedes-Benz Cars responsible for Marketing & Sales.
"The B-Class is the perfect (family) car for anyone who attaches importance to practicality, comfort and safety, but at the same time doesn't want to miss out on sportiness or driving dynamics.", he added.
The exterior boasts a new front bumper, wide radiator trim with two ventilation inserts and new DRL (daytime running lights) in the headlamps. The rear bumper is also modified and comes with n additional chrome trim strip. LED High Performance headlamps create a more striking look, both day and night (not available for the B-Class Electric Drive).
The interior comes with premium quality materials, a more exclusive, up-to-date feel and improved individualisation. Mercedes-Benz has enhanced a number of high-quality details in the B-Class such as the large, free-standing head unit display, which is now larger, with a diagonal of up to 8". There is a choice of 12 colours for the ambient lighting, allowing different moods to be created. KEYLESS-GO is also a new optional feature.
The engine range includes four diesel and two petrol models – B180 CDI, B180 CDI, B200 CDI and B220CDI 4MATIC for the diesel side and B180, B200 for the petrol range.
| | | | | |
| --- | --- | --- | --- | --- |
| Model | B 180 CDI* | B 180 CDI ECO | B 200 CDI*/*** | B 220 CDI**/4MATIC*** |
| Number of cylinders/arrangement | 4 in-line | 4 in-line | 4 in-line | 4 in-line |
| Displacement (cc) | 1461 | 1461 | 2143 | 2143 |
| Rated output (hp at rpm) | 109 at 4000 | 109 at 4000 | 136 at 3200-4000 [3400-4400] | 177 at 3600-3800 |
| Rated torque (Nm at rpm) | 260 at 1750-2500 | 260 at 1750-2500 | 300 at 1400-3000 | 350 at 1400-3400 |
| Combined fuel consumption from (mpg) | 68.9 (70.6) | 78.5 | 65.6 (70.6) [56.5] | 68.9 [56.5] |
| Combined CO2 emissions from (g/km) | 108 (104) | 94 | 111 (104) [130] | 107 [130] |
| Efficiency class | A (A+) | A+ | A (A+) [B] | A+ [B] |
| Acceleration 0-62 mph (s) | 11.6 (11.9) | 11.6 | 9.9 (9.8) [9.8] | 8.3[8.3] |
| Top speed (mph) | 117 (117) | 117 | 130 (130) [128] | 139 [136] |
*Figures for model with 7G-DCT in round brackets, ** standard with 7G-DCT dual clutch transmission, ***figures for 4MATIC version in square brackets
All petrol models at a glance:
| | | |
| --- | --- | --- |
| Model | B 180 | B 200** |
| Number of cylinders/arrangement | 4 in-line | 4 in-line |
| Displacement (cc) | 1595 | 1595 |
| Rated output (hp at rpm) | 122 at 5000 | 156 at 5300 |
| Rated torque (Nm at rpm) | 200 at 1250-4000 | 250 at 1250-4000 |
| Combined fuel consumption from (l/100 km) | 50.44 (52.3) | 50.44 (52.3) |
| Combined CO2 emissions from (g/km) | 129 (125) | 130 (125) |
| Efficiency class | B (B) | B (B) |
| Acceleration 0-62 mph (s) | 9.3 (9.2) | 8.6 (8.4) |
| Top speed (mph) | 124 (124) | 136 (136) |
All models with alternative drive systems at a glance:
| | |
| --- | --- |
| Model | B-Class Electric Drive |
| Number of cylinders/arrangement | - |
| Displacement (cc) | - |
| Rated output (kW/hp at rpm) | 132/180 |
| Rated torque (Nm at rpm) | 340 |
| Fuel consumption, combined, from | 16.6 kWh/100 km |
| Combined CO2 emissions from (g/km) | 0 |
| Efficiency class | A+ |
| Acceleration 0-62 mph (s) | 7.9 |
| Top speed mph | 99 |
Source: Mercedes-Benz