Mazda Launches the All-New Axela in Japan
Mazda Motor Corporation has announced the sales launch of the all-new Mazda Axela (known overseas as the new Mazda3) in the Japanese market. Mazda's mainstay model has been fully redesigned and updated with a host of new features, including the 'i-stop' engine stop/start system. Sales commence today at all Mazda, Mazda Anfini and Autozam dealers nationwide. Manufacturer's suggested retail prices (including sales tax) for the all-new Mazda Axela range from 1,660,000 to 2,678,000 yen. The target sales volume in the Japanese market is 2,000 units per month.
Since the Mazda Axela first debuted in October 2003 it has become a core model in Mazda's lineup, selling over two million units worldwide and currently comprising over a third of its annual global sales. For the second generation Axela, the development team was determined to once again exceed customer expectations. As a result, the new model inherits and evolves Mazda's highly acclaimed sporty performance and exterior styling. Additionally, it arrives with an outstanding interior with greater quality and functionality, and offers advanced environmental and safety features.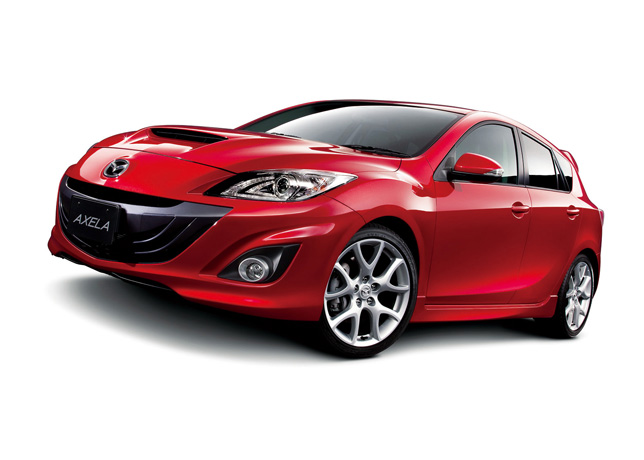 All 2.0-liter front-wheel-drive (FWD) models are equipped with i-stop, Mazda's unique engine stop/start system, which uses combustion energy to restart the engine in just 0.35 seconds, about half the time of most other competing systems. The i-stop system also suppresses noise and vibration as the engine shuts down and restarts, ensuring that drivers experience a natural driving feel with no sense of discomfort. Prices for models with i-stop start from an affordable 1,890,000 yen (including sales tax).
The 2.0-liter FWD Axela with i-stop provides 15 percent better fuel economy than the previous model.*1 The 1.5-liter Axela models are newly equipped with a continuously variable transmission (CVT). This combination enables a sporty ride and top class fuel economy*2 of 18.4 kilometers per liter. All models in the Axela range qualify as Super-Ultra-Low Emission Vehicles (SU-LEV), achieving exhaust emissions that are at least 75 percent lower than the levels required by the Japanese government's 2005 exhaust emissions standard. Additionally, six of the nine model grades qualify for Japan's eco-car incentive program as well as tax reductions of 50 or 75 percent under the government's eco-car tax reduction program.
Together with its superb environmental performance, the new Mazda Axela also boasts more spirited driving performance. Mazda's engineers achieved notable weight reduction while efficiently increasing the vehicle's body rigidity, and reworked the aerodynamics so that the new Axela provides enhanced handling and straight-line stability at high speeds. Drivers can enjoy substantially improved comfort and cabin quietness due to reduced road noise, engine vibration and wind noise.
The updated exterior design, which features a new version of Mazda's hallmark five-point grille, carries forward the original model's sporty impression and injects an added touch of dynamic and refined styling.
*1     Compared to the previous Axela 20C, which achieved 14.2 km/L in Japan's 10-15 mode testing. *2     In the 1.5-liter engine class.
Main features of the Mazda Axela
Design: Bold and expressive with evolved emotional appeal. The design concept for the all-new Mazda Axela was "to carry forward the identity and evolve the expressiveness" of the Axela model. Progressing the dynamic and sporty impression established by the first generation model, the new Axela's styling is boldly expressive and exciting.
Exterior
A new front end was designed to highlight the distinctive character of the Mazda brand.
The center-focused design of the front fascia, whereby front character lines converge in the center at the bottom of the five-point grille, emphasizes the vehicle's dynamism.
Body surfaces are richly expressive due to the chiseled lines on the bonnet and front fenders and the contoured side body panels.
The design of the Axela Sport emphasizes its lively character and compact size. Bolder rear fenders and more expressive C-pillars contribute to the solid, sporty stance.
The characteristic flowing coupe silhouette of the Axela Sedan is now more refined. The short, high deck style, inherited from the first generation model, emphasizes its tight proportions.
The Mazdaspeed Axela boasts an exclusive bonnet scoop; front and rear aero bumpers; a large floating rear roof spoiler and outsized dual exhaust pipes; all of which reflect a premium feel and level of sportiness appropriate for Mazda's flagship model.
Seven exterior body colors are available, including three new colors: Celestial Blue Mica, Indigo Light Mica and Graphite Mica.
Interior
The interior provides more refined design and functionality, with subtle detailing that significantly enhances the overall quality feel.
The dashboard has a radial design that expands from the center to both sides, creating a feeling of roomy openness in the cabin. The cockpit layout was arranged to wrap around the driver and feel snug.
The top surface of the instrument panel is made with soft-touch material molded as a single integrated piece. The parting lines between the center console and instrument panel are minimized with a simple design, and parts that are often touched, such as the door armrests, are made from a soft plastic. These touches add a sense of quality that is usually found on premium class vehicles.
Two upholstery designs, both based on black fabric, are available for all Axela Sport and Axela Sedan models.
Special half-leather seats are available for the Mazdaspeed Axela. Its interior has a bold black design, with red gradation on the seats, door trim, and decoration panel. Red stitching accentuates the seats, steering wheel, shift lever boot and center arm rests, reflecting the sporty yet refined quality.
Features and functionality: A cabin environment that raises anticipation of the drive ahead and assists the driver's concentration. To create a Human-Machine Interface (HMI) that effectively communicates all necessary information to the driver and enables quick and intuitive control, Mazda's engineers adopted a new Zone Layout concept. The all-new Mazda Axela provides a sporty and functional environment which raises the driver's anticipation of the ride ahead and enhances concentration.
A newly developed multi-information display is positioned within the driver's natural eye line.
Driver-operated switches are arranged to minimize hand movement away from the steering wheel and aid concentration.
All models boast a tilt and telescopic steering wheel, seat slide and a ratchet-lever seat lifter, enabling drivers of different sizes to find their perfect driving position. The Mazdaspeed Axela has a power driver's seat with memory function.
The new Axela's front seats offer improved fit and hold. Sport-type seats, which are standard equipment on the 20S, 20E and Mazdaspeed Axela, have greater rigidity with enhanced bolsters on the seat backs for better lateral hold.
Newly adopted Welcome Mode illumination invites the driver and other occupants into the vehicle.
All model grades feature a fully automatic air conditioner with pollen filter. The temperature can be independently adjusted from both the driver and front passenger seats.
An exclusively developed Bose® 10-speaker sound system delivers high quality sound. The system features Bose's original driving noise compensation system, AUDIOPILOTTM 2. (Available as a factory-installed option on the 20S, 20E and Mazdaspeed Axela).
A 40-gigabyte HDD navigation system with a seven-inch display is available for all model grades as a factory-installed set option.
Mazda's advanced keyless entry system with a push button engine starter is standard on all models except the 15C. (Available as a factory-installed option on the 15C).
The luggage space features Mazda's newly developed flexible floor board and cargo net for greater utility. (Standard equipment on the Axela Sport 20S; available as a factory-installed option on the Axela Sport 15C)
Performance:
Deeper connection with the driver, enhanced sporty driving dynamics In order to create a more exhilarating ride, Mazda efficiently increased the rigidity of individual parts and thoroughly reworked the vehicle aerodynamics, resulting in enhanced handling and straight-line stability at high speeds. Additionally, by focusing on evolving the body structure, increasing use of high tensile steel, and improving the aerodynamics, the new Axela offers better fuel economy and a much quieter cabin.
Models with the MZR 2.0L DISI*3 engine feature the newly developed i-stop, which boasts rapid engine restart and exceptional operability.
Available for the first time in the Axela range, a continuously variable transmission (CVT) is combined with the MZR 1.5L engine and provides a balance of sporty performance and excellent fuel economy.
20S and 20E model grades feature a five-speed automatic transmission with new Direct Mode that includes steering wheel paddle shifters for on-demand shifting.
Thanks to increased use of high-tensile steel and weld bonds, the overall strength of the body shell was improved and weight increase kept to a minimum. Torsional rigidity was maintained from the previous model and flexural rigidity was improved by seven percent.*4
The new Axela has a significantly quieter cabin than the first-generation model. Road noise has been reduced by approximately 11 percent*4 and wind noise has been cut by around six percent.*4
Electric Hydraulic Power Assisted Steering (EHPAS) provides a light feel with linear feedback to the driver.
Improved aerodynamics contribute to outstanding high-speed stability, quietness and fuel economy. The drag coefficient (Cd) of the Axela Sedan is 0.30,*4 and the Axela Sport is 0.32.*4
The new Mazdaspeed Axela keeps the previous model's MZR 2.3L DISI Turbo engine, which offers powerful torque, impressive acceleration and great environmental performance.
The new Mazdaspeed Axela boasts improved handling due to specially tuned suspension and body rigidity enhancements.
The Mazdaspeed Axela exclusively features Dunlop 225/40R18 tires for superb response and grip.
*3     Direct Injection Spark Ignition *4     Measured by Mazda.
Environmental and safety features:
2.0L FWD and all 1.5L model grades qualify for Japan's eco-car tax reduction and incentive programs.
2.0L FWD model grades with i-stop offer approximately 15 percent improved fuel economy under Japan's 10-15 mode tests.*5
1.5L model grades with CVT offer approximately five percent improved fuel economy under Japan's 10-15 mode tests.*5
A new clear "Eco-drive" display encourages eco-friendly driving and adds a touch of fun.
The catalytic converters in all 2.0L FWD grades and the Mazdaspeed Axela feature the world's first single-nanocatalyst, which cuts precious metal usage by approximately 70 percent compared to conventional catalytic converters. The Axela is Mazda's first model to feature this new technology.
During emergency braking at speeds above 50 kilometers per hour, the Emergency Signal System (ESS) rapidly flashes the hazard warning lights to alert following drivers. ESS is standard equipment on all model grades.
Mazda's adaptive front lighting system (AFS) with bi-xenon headlights is a newly adopted safety feature. The headlights automatically swivel to follow the road ahead and dramatically improve nighttime visibility. (AFS is available as a factory-installed option on the 20S, 20E and Mazdaspeed Axela. Bi-xenon headlights are standard equipment on the Mazdaspeed Axela and optional on the other model grades).
At speeds over 60 kilometers per hour, the newly adopted Rear Vehicle Monitoring (RVM) system detects vehicles approaching from behind in adjacent lanes, and alerts the driver via an illuminated icon that appears in the door mirrors. (Available on the 20S, 20E and Mazdaspeed Axela as a factory-installed option.)
Mazda's parking assist system includes an ultra-wide angle camera for greater visibility and is available as a factory-installed option on all model grades.