Mazda Concepts At 2013 SEMA Show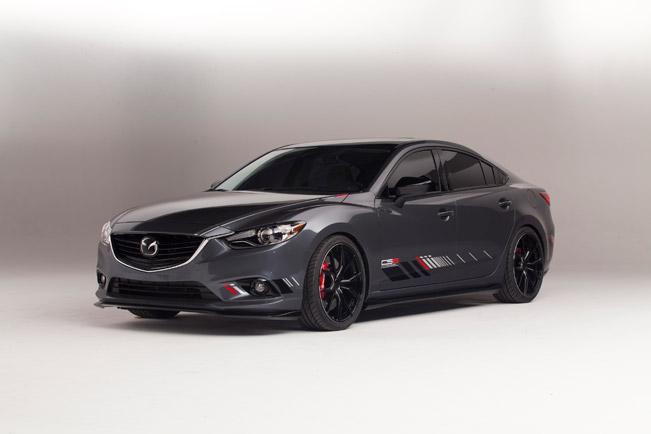 Four Mazda concept vehicles created by Mazda North American Operations' (MNAO) made their official debuts at the annual Specialty Equipment Market Association (SEMA) Show. As a basis were used 2014 Mazda3 and Mazda6 vehicles, which were refreshed in terms of design and performance.
Both a Mazda3 and Mazda6 were given "Club Sport" treatment. The general theme is a motorsports-inspired motif of neutral grays, blacks and reds. This includes Mazda Design-exclusive Composite Grey finish and Brilliant Black rooftop.
The Club Sport 6 Concept is equipped with a 14.0:1 low-compression SKYACTIV-D 2.2-liter clean diesel engine, which produces 175 horsepower (129 kW) at 4,500 rpm and 420 Nm (310 lb-ft) of torque at 2,000 rpm.
The exterior paint is adorned with custom Club Sport graphics that include varying line frequency and width to create a sense of motion. Front, rear and side diffusers, and rear spoiler were also installed as a part of Mazda Design custom accessory aero kit. They were decided in a contrasting Brilliant Black gloss.
The Club Sport 6 vehicle runs on Rays 57 Motorsport G07FXX 20-inch Black and Machining-colored 10-spoke wheels coupled with sticky Yokohama S.drive 245/35R20 tires. New suspension is also at hand - H&R spring kit, while custom Brembo two-piece, six-piston 380x32 drilled brake rotors and a Racing Beat exhaust round out the entire sports-treatment.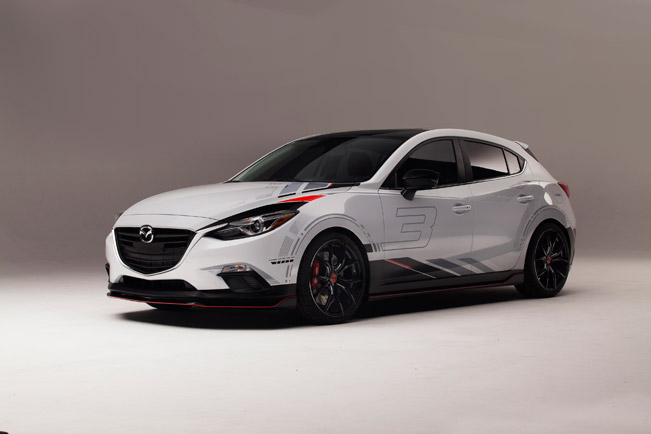 Next, the Mazda Club Sport 3 Concept's design is very similar to the previous one, but has a few extra robust features. Its exterior is decided in Slate White exterior finish, complemented by Metallic Silver lines that trace along the arches of the wheels, the base of the side skirts and the contours of the doors and C-pillars.
Contrasting texture and dynamic flow is delivered by the Vibrant Red vinyl which follows along with thin lines. Left unpainted are the dramatic alpha and numeric Black vinyl call-outs of the fuel door, tire size and SKYACTIV1 TECHNOLOGY pronounced across the hood.
Here was also used the aero kit which features Brilliant Black front, rear and side diffusers as well as a new rear spoiler style. The vehicle hides under its hood is SKYACTIV-G 2.5-liter gasoline engine, coupled with tuned SKYACTIV-Drive six-speed manual transmission.
The unit utilizes short 4.7:1 final drive ratio and a Wavetrac helical limited-slip differential for additional torque. Enhancements in terms of performance include a CUSCO coilover kit, a Racing Beat performance exhaust and Brembo two-piece, six-piston 380x32 drilled brake rotors.
This Mazda runs on Rays 57 Motorsport G07FXX 20-inch Black and Machining-colored 10-spoke wheels wrapped in Bridgestone Potenza RE-11 235/35R19 road-gripping performance tires.
The interior of the car features Red aniline leather treatment throughout - seat trim, door panel inserts, center console, IP decor and a steering wheel stripe. The steering wheel, arm rest, emergency brake and shifter boot are wrapped in Premium Black leather to make the perfect contrast.
Moreover, the front seats include perforated leather within the seat bolsters with a diffusing line pattern in the seat back creating a "3," identical to the Metallic Silver numeral painted onto the vehicle's driver's side door.
Trapezoidal Momo-inspired contrast-Red stitching is visible on the steering wheel and double-stitched tonal deck seams on the doors, seats and IP. The steering wheel also features a single Red aniline leather strip at the minimalist but top-of-mind high-noon position.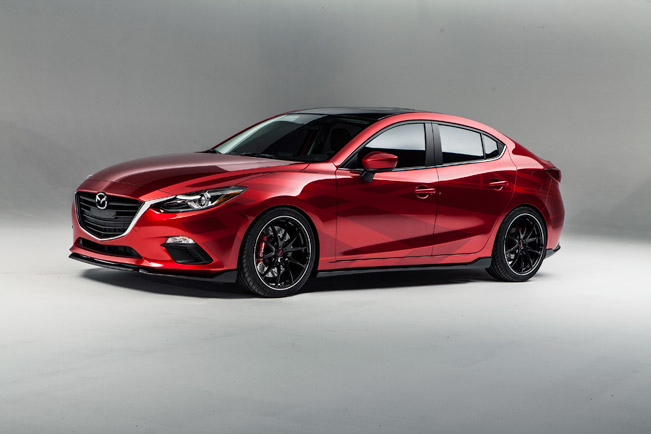 The third vehicle is the Vector 3 Concept that offers a base exterior color decided in Soul Red. Mazda Design custom blend of Deep Crimson in varying shades of depth highlight the "fractured line" treatment of the paint finish's vector pattern.
The car sits on a set of Rays Volk Racing Original G25 19-inch wheels. They were encased in road-hugging Yokohama S.drive 225/40R19 performance tires. Other performance enhancemets feature an H&R spring kit and Brembo two-piece custom four-piston 365x29 drilled rotors.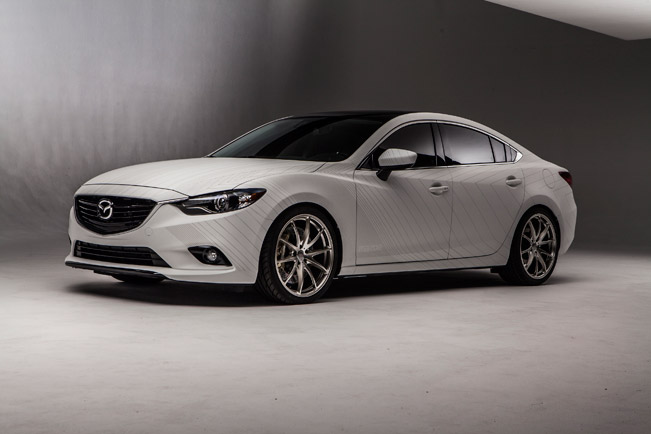 The last concept shown at SEMA is the Ceramic 6 Concept which continues the design philosophy of the Vector 3. Here, the exterior patterns are identical on both sides, and also come to revoke the racing spirit of the model.
The exterior paint finish is Ceramic White littered with Taupe Silver accent stripes. The vehicle's matte white finish was achieved via the utilization of a base metallic followed by a satin quality clear paint.
The exquisite Ceramic 6 rides on Rays Volk Racing Original G25 10-spoke, 20-inch wheels finished in Taupe Silver. Additional performance accessories include an H&R spring kit, a Racing Beat custom dual-exhaust and custom Brembo two-piece, six-piston 380x32 drilled rotors.
Going inside the concept, one sees premium soft leathers, intricate stitching and overlapping weave patterns. The interior of the car is wrapped all-around in supple full-grain leather in White, while Black leather is used for the steering wheel, arm rests, emergency brake and center console.
Accents are provided via metallic details. In addition, the steering wheel also includes Light White Momo-style stitching and it is finished with a matching leather strip at the high-noon position.
The front and rear seat inserts include interwoven light and dark White leather. At the same time, the hand-sewn Burgundy stitching additionally highlights the dynamic contrasting design. Light White leather inserts featuring the same hand-sewn Burgundy stitching pattern adorn the doors. It is also featured along the instrument panel décor.
Source: Mazda