Mazda, the First Japanese Automaker to Develop a Urea SCR System for Cars
Mazda Motor Corporation's sporty SUV, the Mazda CX-7, will be the first passenger vehicle produced by a Japanese automaker to be equipped with a urea selective catalytic reduction (SCR) system.Mazda's SCR is smaller than previous systems, which is a significant improvement that enables it to be installed in passenger cars. It will be combined with Mazda's newly developed clean, highly efficient MZR-CD 2.2L turbo diesel engine.
Planned for introduction in 2009, together with the new facelifted Mazda CX-7, Mazda's SCR system will purify the nitrous oxides (NOx) that are generated in diesel exhaust gases. This will be a welcome addition to the Mazda CX-7's new diesel engine, which provides better fuel economy and lower CO2 emissions than equivalent gasoline powerplants.
Urea SCR systems spray aqueous urea* directly into the exhaust gas flow where it purifies NOx through a chemical reaction. Unlike technologies that use extra fuel to burn off NOx, this method minimally affects fuel economy and power output. However, because an aqueous urea storage tank and other specialist equipment are required, space limitations in passenger vehicles have restricted the use of SCR systems to trucks and buses. This is not the case with Mazda's SCR system.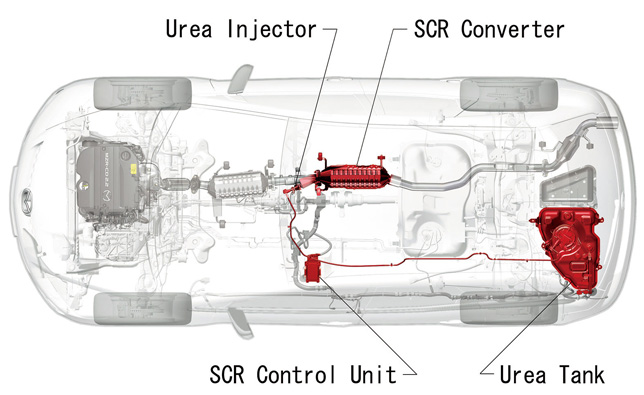 Mazda's MZR-CD 2.2L turbo diesel engine actually produces low volumes of NOx, which means that the SCR system needs to remove less NOx in post processing, resulting in a reduced amount of urea used. This means a smaller tank is required, allowing it to be comfortably installed in the Mazda CX-7.
As well as complying with Europe's most stringent (Euro V) emissions regulations, the freshened CX-7 will provide plenty of Zoom-Zoom, perfectly balanced with eco-friendly performance.
* Urea is a harmless substance that is commonly used in lotions and hand creams.