Mazda to Showcase Eco-Tech at 'Eco-Products 2008' Exhibition in Japan
Mazda Motor Corporation will exhibit its latest eco-friendly technologies aimed to reduce CO2 emissions even further at the Eco-Products 2008 exhibition over the period December 11 -13, 2008. Taking place at the Tokyo International Exhibition Center, the exhibition is one of the largest environmental events in Japan. It is organized by the Japan Environmental Management Association for Industry (JEMAI) and the Nikkei newspaper group.
Mazda will display various eco-friendly technologies including its proprietary hydrogen rotary engine. The exhibition will also feature i-stop*1, Mazda's independently developed engine start-stop system that is scheduled for launch in 2009. As well as enhancing fuel economy, the advanced i-stop system enables an extremely quick engine restart, ensuring drivers can resume their journey with no sense of delay.
Mazda aims to improve the fuel economy of Mazda vehicles sold globally by an average of 30 percent by 2015. Based on its long-term vision for technology development, Sustainable Zoom-Zoom, Mazda continues to advance its technology development in order to offer all its customers outstanding environmental and safety features as well as pure driving pleasure.
*1     The "i" in "i-stop" stands for "idling", "intelligent" and "I". It is intended to convey the image that, "I am stopping my engine idling."
Mazda's main exhibits: i-stop (technology exhibit) Mazda's i-stop is an intelligent proprietary engine stop-start system that improves fuel economy by approximately 10 percent (in Japan's 10-15 mode tests*2). The system precisely controls the positions of the pistons during engine shutdown, and then uses Mazda's direct injection technology to perform a combustion restart. This returns the engine to idling speed in just 0.35 seconds (models with an automatic transmission), ensuring drivers experience a natural driving feel with no sense of delay. i-stop is the market-ready version of Mazda's Smart Idle Stop System technology, and is scheduled for launch in 2009.
*2     The 10-15 mode test is the Japanese standard for emissions certification and fuel economy for light duty vehicles. It consists of two separate drive cycles. The 10-mode drive cycle is a low speed test, while the 15-mode is a higher speed assessment.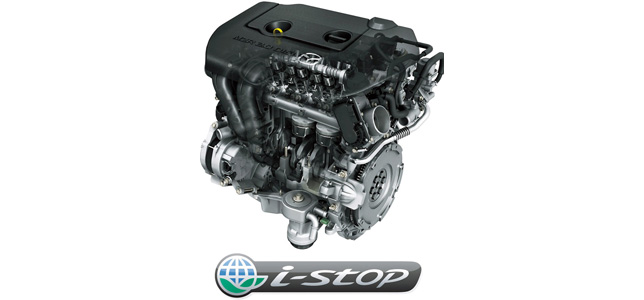 MZR 2.0 DISI i-stop
Premacy Hydrogen RE Hybrid (vehicle exhibit) The Premacy Hydrogen RE Hybrid houses a unique hybrid system that combines a hydrogen rotary engine with an electric motor. It increases power output by 40 percent compared with the RX-8 Hydrogen RE and extends the hydrogen driving range to 200 kilometers. The Premacy Hydrogen RE Hybrid is scheduled to begin commercial leasing in fiscal year 2008.
RX-8 Hydrogen RE (available for ride-a-longs) The RX-8 Hydrogen RE is the world's first commercially available hydrogen rotary engine (RE) vehicle. It has been sold under commercial lease contract in Japan since 2006. Visitors will have the opportunity to enjoy a ride in the RX-8 Hydrogen RE at the "Eco-car and velotaxi test track."
Weight reduction technologies (technology exhibit)
Reducing vehicle weight is a key method of improving fuel economy and dynamic performance. The display will include a new plastic molding technology that significantly reduces the amount of plastic resin used in parts, as well as various techniques that were used to make the all-new Mazda Demio (known overseas as the Mazda2) approximately 100 kilograms lighter than its predecessor.
Materials technologies (technology exhibit)
To demonstrate our efforts toward establishing a sustainable society, Mazda will exhibit various green technologies with significantly reduced environmental impact. These include Mazda's proprietary bumper recycling technology that removes 99.9 percent of paint from recovered used bumpers, and plant-derived biomaterials that are suitable for use in vehicle interiors.