McLaren F1 - Crash in Italy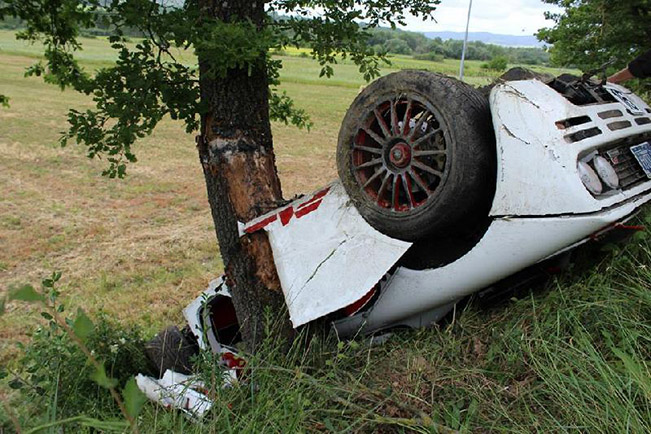 There are two variants for insurance companies, when they hear the phrase "McLaren F1". The first one is full of joy… and money, when the owner decides to make an insurance of his super-sports car, which he doesn't drive at all. The second is full of misery and suffering and involves the word "crash" in a same sentence. Sometimes, this means an epic £910,000 repair bill.
A McLaren was involved in a serious accident in Italy between Saline di Volterra and Pomarance on Tuesday. Luckily, the driver and the passenger were airlifted to the hospital and are in stable condition. However, the sports car suffered extensive damages and the insurers won't be happy at all.
This particular vehicle has a chassis number 72 and was part of a a larger group of McLaren F1s participating in a tour of Italy and benefiting from technical support provided by the manufacturer. Part of that group was Rowan Atkinson, who also crashed his McLaren F1, twice. The first time was back in 1999 and the second in 2011, when McLaren needed a year to restore the vehicle and issued a £910,000 for the repair.
As a reminder: McLaren F1 is powered by a 6.1 liter naturally aspirated V12 (by BMW) with 636HP (468 kW) at 7,400RPM and 651Nm (480 lb-ft) at 5,600RPM. The engine has a redline rev limiter set at 7,500RPM. It is mated to a 6-speed manual gearbox and the compression ratio is 11:1. The curb weight of the car is just 1,140kg.
0-100 km/h in 3.2 seconds; 0-160 km/h in 6.3 seconds; 0-200 km/h in 9.4 seconds and 0-320 km/h in 28 seconds. ¼ mile is covered in 11.1 seconds with 222 km/h (138 mph) and 1 km in 19.6 seconds with 285 km/h (177 mph). The top speed is epic 391 km/h (243 mph).