McLaren And Jenson Button Launch McLaren GREAT 12C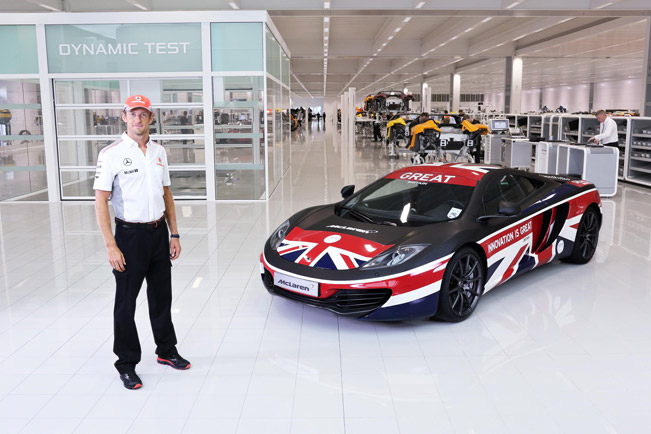 McLaren has just revealed its latest GREAT campaign liveried car. The vehicle was designed to support and inspire British innovation. It is based on the high-tech McLaren 12C, and in fact the car was emblazoned with the GREAT campaign's graphics and the message "Innovation is GREAT".
McLaren GREAT 12C was launched with the support of Jenson Button. The car is equipped with ground-breaking technologies such as one-piece carbon fibre MonoCell chassis that in fact forms the core structure of the car and weighs just 75kg.
The campaign car is powered by 3.8 litre V8 twin turbo engine which is one of the most efficient high-performance units and includes numerous exclusive technologies like Brake Steer and a Proactive Chassis Control System.
With this campaign, the brand aims to be an ambassador for British innovation and to showcase that Britain has leading role in the development of technologies. Moreover, the McLaren 12C is true embodiment of technological creativity and it will most certainly help draw international attention.
The exterior of the car which includes "Innovation is GREAT" logo was designed by McLaren Racing's graphics team. The car will be on tour over the coming months, but first it will make its first appearance on 3rd of September at an exclusive 'McLaren 50' screening of Formula 1 film "RUSH".
Source: McLaren