McLaren MP4-12C GT3 in 2012 FIA GT1 World Championship
The new McLaren MP4-12C GT3 is ready for race debut in 2012, following an intensive development programme in 2011. The competitive race season begins for new McLaren GT customer teams in Germany on 31 March, with the opening rounds of the VLN and ADAC GT Masters championships at the Nürburgring Nordschliefe and Oschersleben respectively.
The MP4-12C sports car, on which the GT3 racer is based, will also make its debut as a safety car in the FIA GT1 World Championship race at the Nogaro circuit in France on 8-9 April.
The McLaren race cars will wear the unique liveries of ART, ASM, Boutsen Energy, Gulf Racing, Molitor Racing, United Autosports and Von Ryan Racing. The JAS team will also take part in selected rounds of the championship. Footage of the new 12C GT3s at the test event in southern France can be seen at "mclarenautomotivetv channel" vai Youtube.
Gemballa Racing and Doerr Motorsport will compete in the 12C GT3 in the German VLN series, which includes the famous 24 Hour Nürburgring endurance race in May.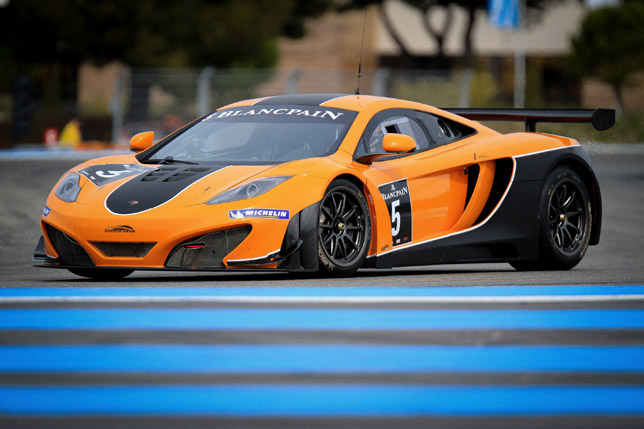 Molitor Racing and Gemballa Racing will run in ADAC GT Masters, and French FIA GT1 Champions Hexis Racing will line up on the grid of the FIA GT1 World Championship. Series Champions Apex Motorsport will enter a new 12C GT3 in selected rounds of this year's British GT championship, while the Lapidus Racing team will contest the International GT Open series, and also compete in forthcoming 24-hour races at Spa-Francorchamps in Belgium and Circuit de Catalunya in Spain.
Teams racing the 12C GT3 in 2012 have enlisted the services of highly successful racing drivers for the 2012 season. Former Formula 1 drivers Mark Blundell and David Brabham (also a Le Mans 24hr winning driver) will race for United Autosports and 2011 Formula 2 competitor Jack Clarke will drive for Boutsen Energy. Rob Bell, Alvaro Parente and Alexander Sims, who recently joined the McLaren GT driver line-up for 2012, will be placed with customer teams, while McLaren Automotive Chief Test Driver Chris Goodwin will also contest selected races in a 12C GT3 throughout the season.
"I'm excited that we are so close to seeing the 12C GT3 in its first full race season.  The feedback I have received from customers that have already taken delivery of the car is very positive.", commented Andrew Kirkaldy, Project Manager for McLaren GT.
"The 2011 development programme was challenging, but had many highlights.  We started with a pole position in qualifying at Spa-Francorchamps in the British GT Championship, and ended the race season with a third place finish in Macau. In one year, McLaren GT has taken the 12C GT3 from concept to race readiness.  We will learn more about the car in the early part of the season - and expectations will naturally be high of a car full of Formula 1 technology -  but our objective is to makes the 12C GT3 as much a pleasure to own and run as it is race." , he added.
The 12C GT3 shares the same V8 twin turbo engine and carbon 'MonoCell' chassis as its road car sibling, and its aerodynamic package was developed by McLaren GT in partnership with specialist engineers and designers at McLaren Automotive.
Source: McLaren