McLaren Special Operations Previews MSO 650S Coupe Concept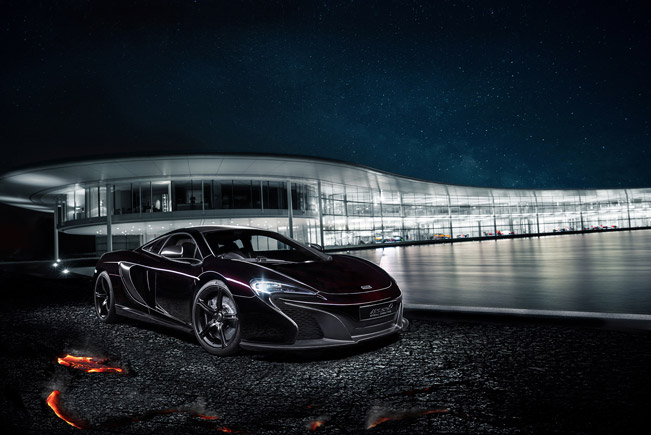 McLaren MSO 650S Coupe Concept is a unique design concept vehicle which is destined to go on to a China tour. McLaren Special Operations (MSO) has developed bespoke upgrades for it, thus making it with optimised aerodynamic performance and more dramatic appearance. The range of the new styling options are not only available for the McLaren 650S Coupe and 650S Spider, but many of them can also be fitted to the previous 12C models.
McLaren 650S Coupe and 650S Spider are the latest models to join to McLaren's range. The pictures of the concept are previewing the model ahead its tour throughout China over the coming weeks. This supercar includes an array of bespoke MSO features, such as newly designed carbon fibre rear diffuser and MSO-branded carbon fibre side blades.
The stealth-like appearance of the car is achieved through upgrades made to the exterior bodywork and within the driver-focused cabin. MSO 650S Coupe Concept is finished in 'Agrigan Black'. The latter is a metallic black paint that was specifically developed in-house and features a deep ruby red metallic flake.
This paint effect contrasts with the extensive use of satin-finished carbon fibre elements. From this material are made the front splitter and air intakes, side blades and the unique MSO ear diffuser. In fact, the side blades are more aggressive, full length, interpretation of the door blades seen on the 650S Coupe and Spider models.
In addtition, they also offer increased improvements to the airflow along the edges of the bodywork. This of course optimizes the aerodynamic efficiency. At the rear, we can see a GT3-inspired rear bumper, which features a carbon fibre centre section. This material carries through to the carbon fibre airbrake and unique MSO rear diffuser.
Furthermore, the engine bay has been further improved with satin black engine covers and a satin finish to all carbon fibre parts. MSO 650S Coupe Concept runs on satin black finished lightweight '650S' alloy wheels fitted with Pirelli P Zero Corsa tyres.
The interior enhancements include fixed-back carbon fibre racing seats, which are based on the lightweight design found in the McLaren P1. They are finished in carbon black leather. In addition, satin carbon fibre can be seen extensively throughout the cabin, while the switchgear and bezels are finished in contrasting gloss black.
McLaren MSO 650S Coupe Concept is a one-off design study. MSO is monitoring reaction regarding any potential production examples.
Source: McLaren