Mercedes-Benz CL 500 Foliation by Wrap Works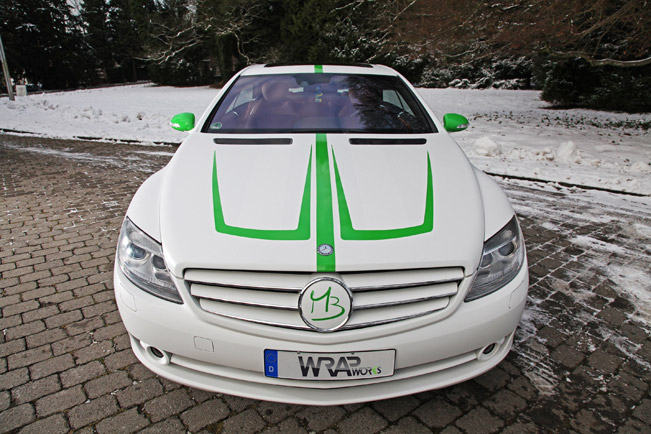 Wrap Works Mercedes-Benz CL 500 is an exceptional work done by the specialist from the Wrap Works Company in Bergisch Engelskirchen. They have foiled the C215 platform with White Metallic Matt.
Before the process took place, certain design elements seen as a relief to the foliation were glued together. After an emphasis has bee made with acid green accents. The grille is foiled only partially, but also includes an own logo.
Furthermore, the head lights feature lighting capacity of about 5 %. In terms of performance, there has been added a muffler fabricated from stainless steel. The original stock figures of the car are 387 hp (285 kW), 530 Nm (391 lb-ft) torque and top speed of 250 km/h.
After the modification, there is an increase of power done an optimization of the software and resulting in 410 hp (301 kW), 550 Nm (406 lb-ft) torque and were increased to unrealistic top speed of 280 km/h.
Despite the increase of performance, the fuel consumption is reduced only by about 0.4 l/100 km. At last, the Mercedes-Benz was equipped with new 21-inch rims made by Lorinser with tires of following dimensions 255/30 R21 on the front axle and 285/30 R21 mounted on the rear axle respectively.
Source: Miranda Media