Mercedes-Benz Concept Style Coupe
Isn't that a looker?! It's the latest concept-to-be-reality thing from Mercedes-Benz. At the moment it's called the Concept Style Coupé (CSC) and it looks like the love child of a CLS and an A-Class if they were ever to mate. Sleek and curvy, this fluidic piece of art is to be exhibited next week at the Beijing Motor Show as it makes its world debut. It's smart as well, no doubt, with Mercedes' latest turbocharged four-cylinder petrol unit, a 4MATIC drive and a set of fancy blinkers...apparently.
Let's start off with the exterior, shall we? It certainly has the face of an A-class (the latest one) with that dotted grille. Then again, with a length of 4637 mm, it is almost as long as the current CLS (give it or take 300 mm). And that slopey profile is rather unmistakable – it has "four-door coupe" all over it. There's a glass roof at the top which is only separated from the rear window by a roll-bar-like beam. The 21-inch wheels on the CSC are meant to look like turbines and supposedly, they do channel air to those massive disk brakes. Then there are the headlights – even when they are off, a red glare throws daggers at you in a particularity devilish manner. The indicators resemble a set of LEDs that light up in succession much like the ones you find on an airstrip.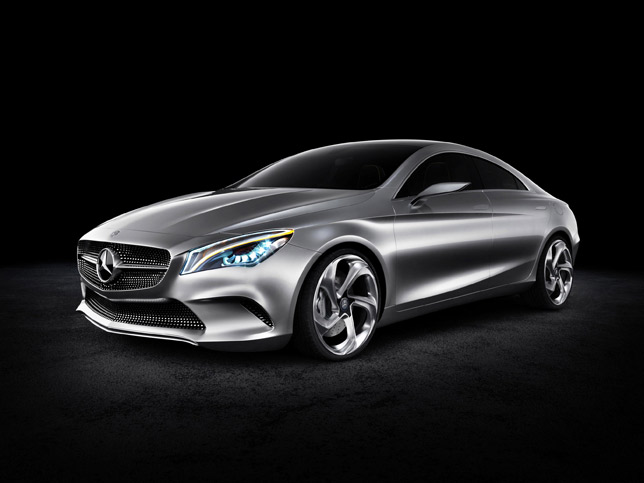 Inside, things are just as Mercedish – a blend of leather and Alcantra wrap around you with an ergonomic nature. The carbon-trimmed dashboard is meant to represent a wingspan while the air vents on it use a jet engine for inspiration (quite a lot of aircraft themes so far). There's a light behind each one of them so they tend to change their color, depending on the temperature of the air that's being thrown at your face – red suggests scorching hot, blue offers Arctic whirlwinds and yellow indicates a mildly breeze (we just like to think so). The neon green lining touch is rather neat as well – it gives you that sporty training shoe feel. Computer buffs will love this as well – the car's COMAND Online gives you access to the world wide web at all times and that the software (all the apps and interface) is hosted directly at Dimler's. That way you can get the most current updates "over-the-air" (OTA) through, let's say, a mobile phone connection.
But enough about silly stuff. Let's talk numbers and fumes... which aren't that much. Sure, 211 bhp sound reasonable enough. But we suspect that an engine, normally found in the A-Class, won't be at it's best in the CSC (remember that the world wide web is in it?). Still, a 2.0 liter, 4-cylinder top of the range engine (from that family), mated to a 4MATIC all-wheel drive system and a 7G-DCT dual clutch automatic transmission sounds like a nimble setup. It might just be for show, something to put inside this gorgeous body for the time being. When can we expect a production version? Next year, the year after that? We don't know.
For now, look forward to the Beijing Motor Show which kicks off at the 23th of April where we'll have that and much more.
Source: Mercedes-Benz