Welcome To The 2015 Mercedes-Benz GLA 45 AMG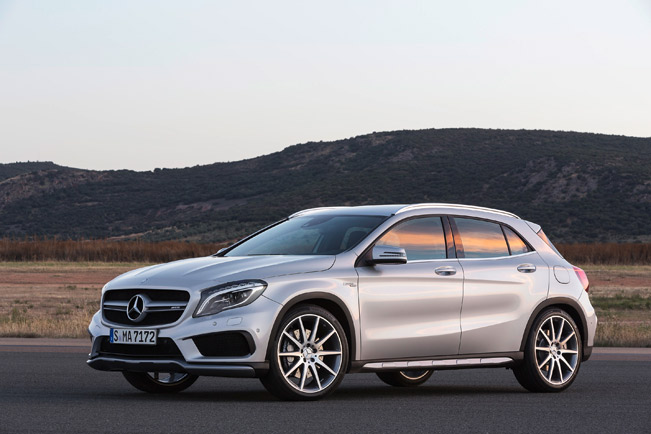 Here it is in the flesh: the world's most powerful "series-produced four-cylinder engine". It's the Mercedes-Benz GLA 45 AMG and it's fast. Like, 4.8-seconds-to-sixty-miles-an-hour kind of fast.
So, despite the tiny engine (2.0-liters), the GLA – AKA, the latest of the "Compact-SUVs" – offers 360 hp and 450 Nm of torque. How have they done that? Well, a twin-scroll turbocharger with a maximum charge pressure of 1.8 bar, and an air-to-water intercooler might be partly to blame. AMG engineers have fiddled with a host of other performance elements. Consider the forged pistons with friction-optimised rings, the spray-guided direct petrol injection with piezo injectors, the weight-optimised crank mechanism or its all-aluminum case. Throw in a start/stop system and you get great gas mileage as well. 37.6 and CO2 emissions that will have you worry-free until 2017 at the least.
The overall power coming out gets crunched by a 7-speed AMG Speedshift DCT sports transmission. It has three operational modes, double-declutching and a Race Start function. The modes are "M" and "S" (manual and sport respectively) for lightning-fast shifting, and "C" for controlled-efficiency - a leisure type of mode that by proxy activates the start/stop system, so that's the one to go with between the traffic lights during busy Mondays.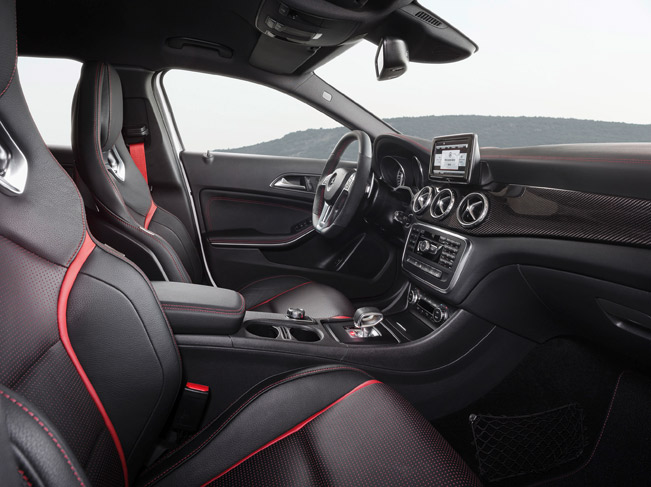 Then there's the sports exhaust system with an automatically controlled exhaust flap which responds accordingly to the engine speed and load condition. There's a performance version of the same exhaust system available as an option. Either way, the sound is top-notch, so they tell us.
Albeit compact, this is an SUV, so you can't just not provide a proper AWD drive. Hence, the AMG 4MATIC. Under normal circumstances, all the power goes to the front axle, but if the situation requires it, the drive ratio can be up to 50:50 between the front and back. All that transfer magic happens thanks to an electro-hydraulically controlled multiple-disc (talk about tongue twisters). At the same time stiff steering knuckles and new elastokinematics on the MacPharson front axle keep traction in check. The AMG sports suspension with specially tuned spring/damper units and bigger anti-roll bars provides for high lateral acceleration and reduced body roll in fast double bends. The AMG speed-sensitive sports steering with specific, speed-dependent power assist ensures high steering precision and agility.
Finally, for stopping power you get these beautifully red painted, AMG-inscribed (optional) callipers. Paired with vented, cross-drilled discs, you get quite the combination.
Source: Mercedes-Benz