2012 Mercedes-Benz ML 63 AMG ready to conquer UK roads
The new 2012 Mercedes-Benz ML 63 AMG is going to be available at dealerships in the United Kingdom very soon. In addition to that the new, refreshed vehicle is going to come with a competitive price of £82 995.
What is more, the ML 63 AMG comes with an exceptional set of standard equipment. Of course, as you have already concluded, this comprehensive equipment comes from the experts from Mercedes-Benz AMG performance division.
In short, the 2012 Mercedes-Benz ML 63 AMG is propelled by a 5.5-litre bi-turbo direct-injection V8 engine. It delivers the exceptional 525 hp (386 kW) and 700 Nm (517 lb-ft) of torque. And if the vehicle is equipped with the optional AMG Performance Package, then the customer will enjoy riding on a beast producing the whole 557 hp (410 kW) and 760 Nm (561 lb-ft).
For more detailed specifications about the ML 63 AMG, click HERE.
These impressive numbers of the engine makes it possible for the Mercedes to accelerate from 0 to 100 km/h in just 4.8 seconds.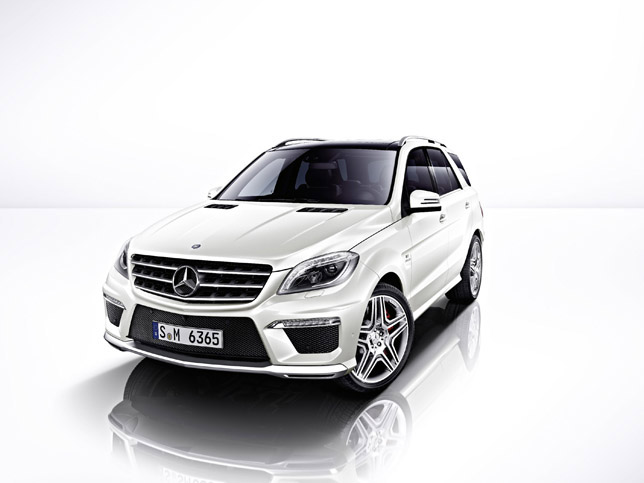 2012 Mercedes-Benz ML 63 AMG
And what specifically the engineer from AMG has done here is to make the car work more fuel-efficiently. In particular, now the car is almost 40 per cent more economical and emits nearly 30 per cent less CO2 than the previous model.
In addition to this, there is also the responsive and intelligent AMG Speedshift Plus 7-G Tronic seven-speed automatic transmission included in this model. It also featured a Controlled Efficiency driving mode and ECO start/stop function. They additionally contribute to the improved fuel-efficiency and show combined economy of 23.9 mpg, with CO2 emissions pared down to 276 g/km.
Modifications have been done to the chassis as well. They ensure the excellent performance of the 2012 ML 63 AMG. Furthermore, there are also included AMG sports suspension and high-performance brakes with internally ventilated and perforated discs, Direct Steer and 20-inch five-spoke alloy wheels.
Next to be highlighted is the Mercedes-Benz Active Curve System with AirMATIC self-levelling air suspension. This system comes also as a standard and gives the ML 63 AMG astounding body composure and handling when cornering.
There is no doubt that the specialists from the AMG have done incredible work on the exterior and interior appearance of the car as well. For instance, the exterior includes AMG bodywork with exclusive front and rear aprons and side skirts, AMG-specific LED daytime running lamps as part of the standard Intelligent Light System, an AMG sports exhaust system with two twin tailpipes which give the ML 63 AMG its charismatic exhaust note and 'V8 BITURBO' lettering on the front wings.
On the other hand, the interior is as impressive as the outer look of the vehicle. Inside are included a leather-upholstered AMG Sports seats which are in addition, heated at the front. Moreover there are is also featured the following equipment: an AMG four-spoke steering wheel trimmed in Nappa leather with a flat lower section, AMG instruments and floor mats and sports pedals and footrest in brushed stainless steel with rubber studs, Mercedes-Benz COMAND Online system with Media Interface, a DAB digital radio, a dashboard trimmed in Artico artificial leather and an electric glass sunroof.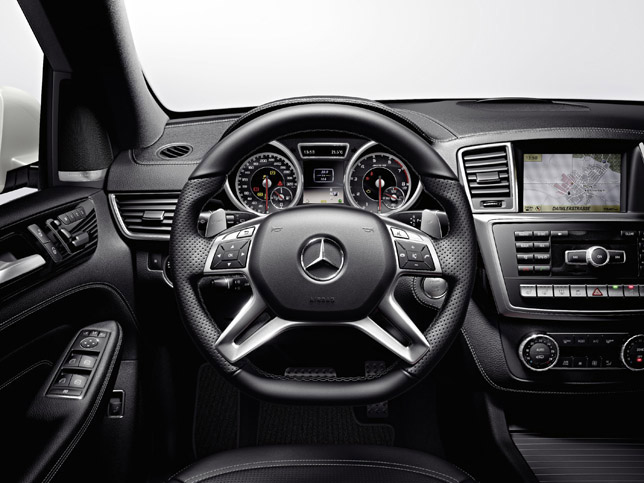 2012 Mercedes-Benz ML 63 AMG Interior
An interesting fact is that the optional AMG Performance Package is being offered for the very first time on the ML-Class. And thank to it, now the ML model can get not only additional power and torque, but also it gets the AMG Performance steering wheel with Dinamica inserts in the grip areas, an AMG carbon fibre engine cover and red-painted brake calipers.
The 2012 Mercedes-Benz ML 63 AMG can be also equipped with the Driver's Package. What it basically does is to increase the limited top speed from 155 mph to 174 mph.
Source: Mercedes-Benz