Mercedes-Benz S-Class: Magic Body Control [VIDEO]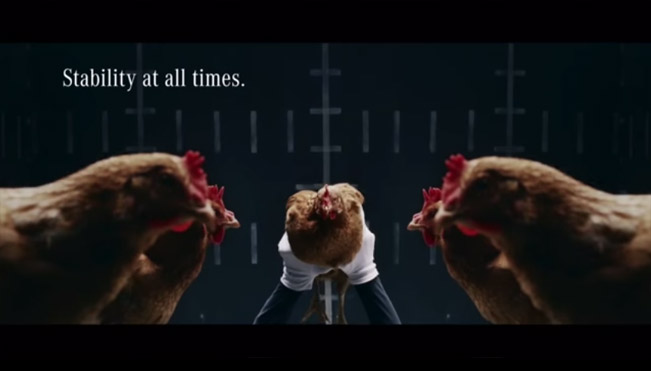 The new 2014 Mercedes-Benz S-Class has made its debut a few weeks ago and now the luxury brand is beginning its advertising campaign. On its YouTube Channel, called MercedesBenzTV, it has released a very creative video which promotes the Mercedes-Benz Intelligent Drive MAGIC BODY CONTROL found in the new S-Class. This is a world's first suspension system which ensures optimum driving comfort by using "eyes".
ROAD SURFACE SCAN technology detects road surface's undulations in advance by the means of the stereo camera in the windscreen. Then the MAGIC BODY CONTROL sets up the active suspension in order to deal with the situation. This new technology is based on the ABC (Active Body Control) suspension and includes an active suspension that enhances both comfort and driving dynamics.
The new advertisement however, does not show the S-Class, but surprisingly – it is all about chickens. And to be honest, it is one of the most creative and eccentric ads I have ever seen! I'm sure that everyone will love it and it is undoubtedly worth the attention. You can view the video below:
Video Source: YouTube