2014 Mercedes-Benz S-Class With On-Screen Debut [VIDEO]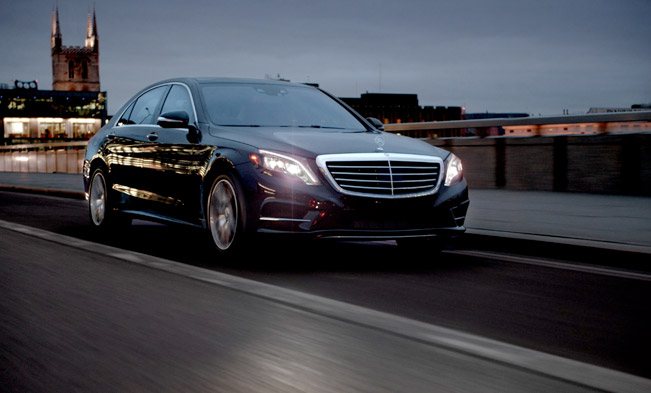 The 2014 Mercedes-Benz S550 is the first of the new-generation S-Class model line which hits the U.S. showrooms today. In addition, it makes an on-screen debut as a part of an integrated marketing launch.
The vehicle is undoubtedly a benchmark in the luxury sedans, but it also adds many exclusive features such as hot-stone massage and at the same time provides one of the most sophisticated accident-avoidance technologies.
The marketing campaign includes two TV spots. The first one is called "Four Words" and it explores the origins of the company's storied tagline "The Best or Nothing". The video goes back in time through the 127-year history of Mercedes-Benz, and begins with the Gottlieb Daimler's garage, where the very first automobile was made.
The advertisement then reviews the historic Silver Arrow race cars inside the Mercedes-Benz museum in Stuttgart, and more importantly, the ad conveys how those four simple words written by the founder have challenged Mercedes-Benz to "inspire, provoke and push". The end of the ad shows the new 2014 S-Class as the logical development of the entire history and philosophy of the brand.
The second advertisement is named "Control" and it illustrates what makes the S-Class driving experience "a new era of innovation". The video shows a nighttime drive through the city and introduces features such as hot stone massage, interior lighting available in seven colors and a cabin fragrance system.
2014 Mercedes-Benz S-Class is a vehicle which brings new levels of luxury, technology and safety to market. The interior of the car includes heated armrests ionized air purification via the Air Balance Package, First Class rear-seat luxury and a Burmester sound system.
Its sophisticated exterior design is complemented by an intelligent suspension system, named Magic Body Control that sees the road ahead and adjusts the suspension accordingly. In terms of safety technologies, Mercedes-Benz offers more than 30 standard and optional active and passive features.
An example for one of them is the Driver Assistance Package, which includes the following: DISTRONIC PLUS with Steering Assist, PRE-SAFE Brake, PRE-SAFE PLUS, BAS PLUS with Cross Traffic Assist, Active Lane Keeping Assist and Active Blind Spot Protection. Other Intelligent Drive safety features include Attention Assist and Night View Assist Plus with human and animal detection.
2014 Mercedes-Benz S-Class has a starting price of $92,900 USD.
Video Source: YouTube
Source: Mercedes-Benz