Mercedes-Benz S500 Plug-in Hybrid with F1 Technology [video]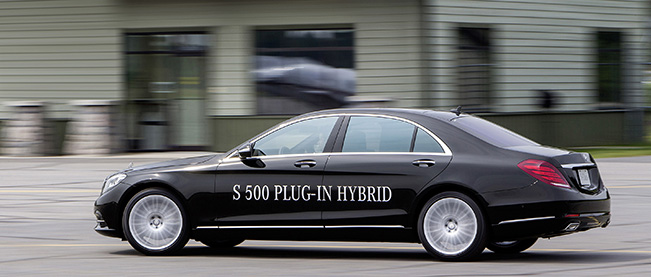 Mercedes-Benz has published a new promo video featuring the new S500 Plug-in Hybrid. The super-efficient luxurious saloon boasts F1 technology fitted in a road going model. The video also features Nico Rosberg and Lewis Hamilton who argue on topic: who is the best driver.
Mercedes-Benz S500 Plug-in Hybrid is powered by a 3.0 liter twin-turbocharged V6 engine and an electric motor with an 8.7 kWh battery pack. The petrol engine develops 333HP (245 kW) and 480Nm (354 lb-ft). The combined output is 435HP (325 kW) and 650Nm (479 lb-ft) of torque. 0-100 km/h in just 5.2 seconds and a top speed of 250 km/h (155 mph). The average fuel consumption is sensational – 2.8 liters / 100 km (84 mpg US or 100.8 mpg UK). The car can go up to 33 km (20.5 miles) only on electricity.
The Mercedes-Benz hybrid system is modular and scalable in design, and can be applied to numerous model series including E-Class, C-Class, CLS, etc. In the coming years, there will be numerous new hybrid models. The modular hybrid system also shows its strengths in conjunction with the different drive systems. In-line four-cylinder engines (petrol and diesel) can be hybridised just as well as a V6 petrol engine.
"Mercedes-Benz – The Best or Nothing!"
Source: Mercedes-Benz