2014 Mercedes-Benz SLS AMG Coupe Electric Drive Production Car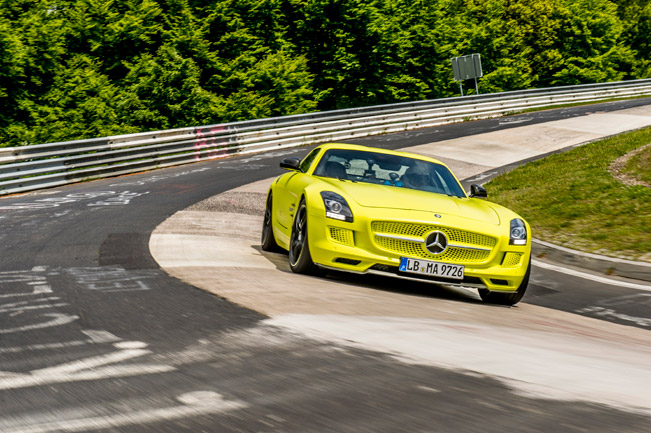 2014 Mercedes-Benz SLS AMG Coupé Electric Drive Production Car has made a record time at the Nürburgring Nordschleife ("north loop") circuit of a 7:56.234 minutes. This means that this Mercedes-Benz is at the same time the first electrically-powered series production vehicle, which masters the legendary race track less than eight minutes.
The record for the SLS AMG Coupé Electric Drive shows the special position of compnay's innovative and unique drive solution. Thanks to its efficient battery technology deriving from Formula 1, four electric motors positioned close to the wheels, the individual wheel torques "AMG Torque Dynamics", the SLS eSound and the"AMG Lightweight Performance" design strategy, the vehicle is capable of doing miracles.
The total output of the four electrical motors of the car is of 552 kW (751 hp) and the maximum torque is of 1000 Nm (738 lb-ft). 2014 SLS AMG Coupé Electric Drive accelerates from standstill to 100 km/h in a less than 3.9 seconds on its way to a top speed of 250 km/h.
In addition, the powerful highvoltage battery for this car is an end result of the collaboration between Mercedes-AMG and Mercedes AMG High Performance Powertrains in an aim to deliver more power density and efficiency.
Furthermore, the car delivers agile response to movements. The reasons for this are the accelerator pedal and the linear power output: unlike with a combustion engine, the build-up of torque is instantaneous with electric motors – maximum torque is effectively available from the beginnig.
The driving dynamics of this model are ensured by the four motors, four wheels and the intelligent and permanent all-wheel drive. At the same time the latter provides the best possible active safety. Here the AMG Torque Dynamics feature is constantly active and allows for selective distribution of power to each individual wheel.
Furthermore, the same feature boasts a high degree of versatility by offering three different driving modes: Comfort (C) which delivers comfortable, forgiving driving characteristics, Sport (S) that is dedicated for sportier, balanced driving manner, and Sport plus (S+) which delivers sporty and very agile driving characteristics.
The production version of the 2014 Mercedes-Benz SLS AMG Coupé Electric Drive will be officially launched this month. Its starting price is of 416 500 Euros (circa USD $549 780).
2014 Mercedes-Benz SLS AMG Coupé Electric Drive Production Car Characteristics:
Max. output
552 kW (751 hp)
Torque
1000 Nm (738 lb-ft)
0-100 km/h
3.9 s
Top speed
250 km/h*
Range
250 km (according to NEDC)
Battery energy content
60 kWh
Battery voltage
400 volts
CO2 emissions
0 g/km
*Electronically limited
Source: Mercedes-Benz