Mercedes-Benz SLS AMG Coupe Electric Drive [video]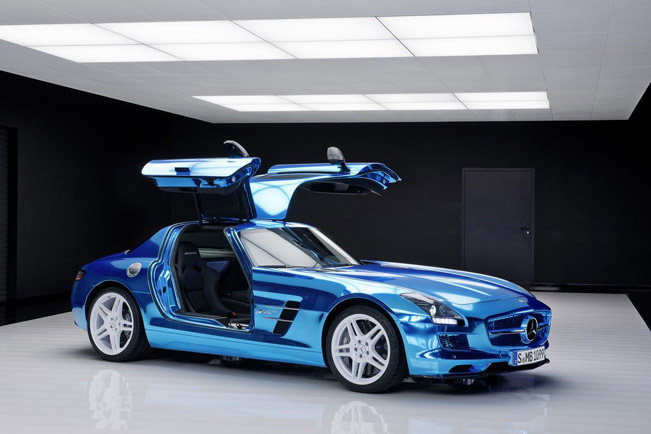 Mercedes has released a new video clip of their Electric Drive SLS AMG Coupe model. The car runs through the paces at the Ascari race track in Malaga, Spain. It is very interesting to see, how the cars goes fast barely making a sound.
It boasts an exclusive blue paint (AMG electricbeam magno). The SLS AMG Electric Drive Coupe is powered by four electric motors with combined power of 740HP (552 kW) and 1000Nm (738 lb-ft) of torque. 0-100 km/h in 3.9 seconds and a top speed of 250 km/h (155 mph) – electronically limited. The range is up to 250 km (155 miles) on a single charge. The recharging time is just three hours with a rapid charger or 20 hours with a conventional outlet.
The car will actually hit the European market next year. The price is as staggering as the car itself - €416,500. Obviously Mercedes-Benz is trying to get a lot richer than before with such prices and models like SLS AMG Electric Drive and the new astonishing SL 65 AMG.
Source: Mercedes-Benz