Mercedes-Benz Unveils AMG Vision Gran Turismo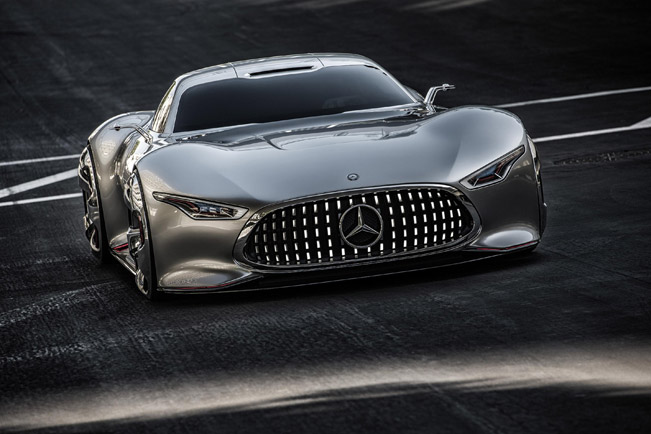 Mercedes-Benz designers have created a visionary concept of a super sports car for the new PlayStation 3 racing game Gran Turismo 6. The car is named Mercedes-Benz AMG Vision Gran Turismo and it features extreme proportions, sensual contours and intelligently high technologies.
In addition, its breathtaking visual appearance perfectly complements its breathtaking performance of 585 hp (430 kW) and 800 Nm (590 lb-ft) of torque. The futuristic model will make its world debut on 19 November 2013 at the opening of the new Mercedes-Benz Research & Development Center in Sunnyvale, California.
Mercedes-Benz AMG Vision Gran Turismo sports extreme proportions and variable LED radiator grille. In other words, the sports car proportions that are a typical Mercedes feature have been reinterpreted. To be more precise, the long bonnet has a flowing transition into a compact greenhouse offset to the rear.
There the rear end is made with broad shoulder contours. The dynamism of the vehicle is highlighted by an extended, dramatic side contour and a pronounced bulge to the wheel arches, which blend into the low-slung, muscular bodyshell.
The headlamps have angled form and thanks to their color scheme, the car receives even more determined look. The aggressive and sporty impression is additionally reinforced by the bonnet with its expressive forms and motorsport details, such as the release catches on the bonnet and the fuel cap.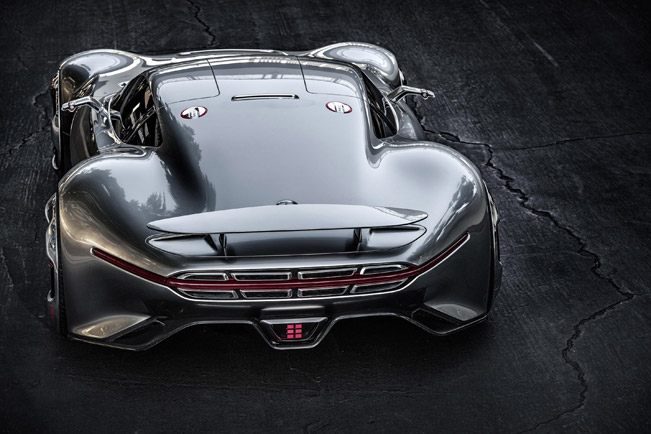 Red-glowing contour lines are positioned on the lower part of the vehicle. They create a contrast to the silver-painted bodywork. Another eye-catching feature is the radiator grille, which has a shape reminiscent of the legendary 300 SL racing car of 1952. Variable LED grille with different light patterns is a further development of the diamond grille introduced with the new A-Class.
The interior of the car is inspired by the Formula 1 cockpit. It includes red integral sports seats, black flooring of the footwell, dashboard in the form of two gullwing doors which are positioned on each side of the steering column. As a result the actual doors themselves appear to be an extension of the instrument panel.
More importantly, Mercedes-Benz AMG Vision Gran Turismo is equipped with AMG V8 biturbo engine that develops 585 hp and a maximum torque of 800 Nm. The entire car is made of an aluminium space frame body and components in carbon fibre, which contributes towards the weigh of the car that is only 1385 kilograms.
The excellent deceleration values and fade resistance at the highest level are ensured by the AMG ceramic high-performance composite braking system. On the other hand, the AMG sports exhaust system with eight tailpipes is positioned at the rear end and deliver a powerful accompaniment whenever the car accelerates.
Source: Mercedes-Benz