Mercedes-Benz AMG GT Beautified by SR Auto Group

The New Prince is the nick name of this Mercedes-Benz AMG GT tuned by the specialists at the Canadian studio SR Auto Group. The car looks amazing even without modifications, but in sake of individuality this car has received some minor updates. And we do not want to see more, since this AMG GT has it all.
Considered the "angrier and younger brother" of the Mercedes-Benz SLS, the AMG GT was one of the most awaited and definitely satisfying introductions this year. The car features many benefits, but it is the most impressive in its performance figures and engine capabilities.
SEE ALSO: Gloss Davinci Red Redefines Simplicity for this Ferrari 458 Italia 
Speaking of which, the production variant of the Mercedes-Benz AMG GT comes equipped with the newly-developed AMG 4.0-litre V8 engine connected to the AMG SPEEDSHIFT DCT 7-speed sports transmission. In this configuration, the car is capable of producing 462 hp (340 kW) and 600 Nm (443 lb-ft) of torque. The production AMG GT also reaches a top speed of 304 kmph and accelerates from zero to 100 km/h in 4 seconds. When going 0-200 kmph the car needs 11.5 seconds.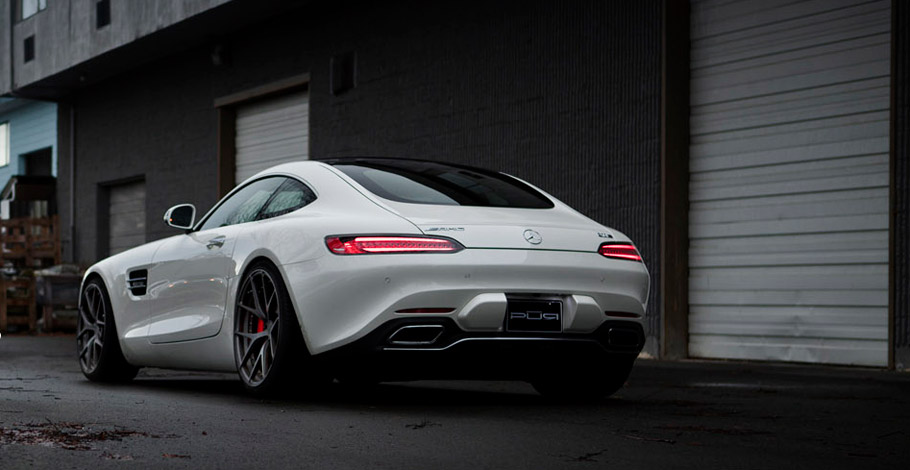 The main focus of the tuning team therefore was on suspension and wheels, since they decided that the Mercedes got everything that it needs in terms of power and felt the body itself was styled perfectly from the factory.
The first thing was to add new suspension parameters. This has happened with the help of directly from H&R, which made sure that the Mercedes receive a new set of lowering springs. From there on, the specialists fitted the car with a set of double staggered two piece PUR 4OUR.M2 alloys.
They come in a special finish called Matte Anthracite but also have a gloss black inner barrel and monaco gold hardware. If you wonder about their size, well it is 9x20-inch at the front and 12x21-inch at the rear. Simple things make everything more stylish and beautiful, don't they?
Source: SR Auto Group