Mercedes Concept A-Class
Mercedes-Benz Concept A-Class is the German automaker's latest high-tech study vehicle, which is about to get publicly premiered very soon, at the upcoming Auto Shanghai 2011 (21 – 28 April 2011).
Representing a completely different approach in the compact class, the Mercedes Concept A-Class utilizes an exclusively dynamic styling reinforced by some top-notch highlights, including: an all-new, turbocharged four-cylinder petrol power plant and a dual clutch transmission, as well as a radar-based collision warning system with adaptive Brake Assist.
The Concept A-Class' 2.0-liters engine with 210 horsepower is from the new M270 series by Mercedes, and showcases a unique blend of high performance, minimal emissions and enhanced fuel consumption, achieved thanks to its direct injection and turbocharging.
The compact study ride's radar-based collision warning system with adaptive Brake Assist is a world first in the compact class. It provides a visual and acoustic warning to a possibly inattentive driver, and prepares Brake Assist for an absolutely precise braking response.
Inside the cabin of the Concept A-Class, our attention is immediately focused on the futuristic dashboard with aircraft wing-like shape and a transparent, stretchable textile lining, which enables the bionic, cellular structure of the components to remain visible.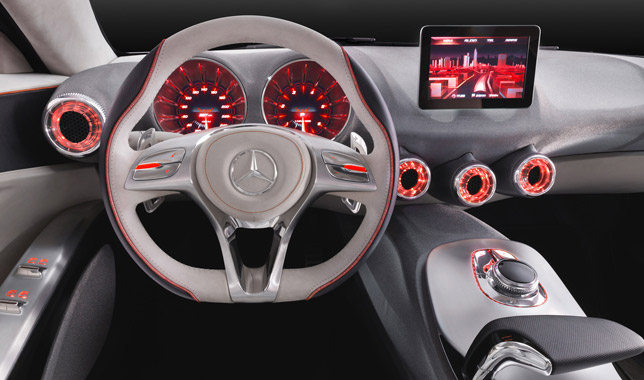 Source: Mercedes-Benz