Minerva J.M. Brabazon - Top Speed 400 km/h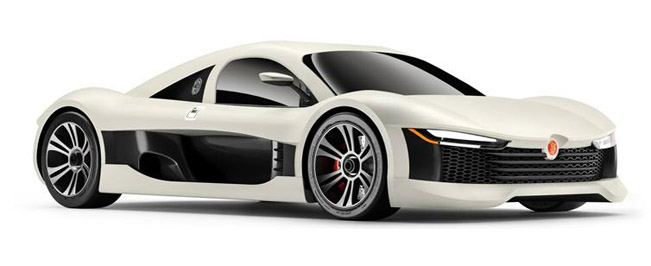 Minerva has published several pictures and some details for their upcoming J.M. Brabazon Super car. It is obviously named after a British racing driver and features a lot of racing detals.
The carbon-Kevlar body is put on a carbon fiber monocoque chassis for maximum lightweight and rigidity. The exterior reminds to Audi R8 and features a prominent from fascia, LED headlights, 19" front and 20" rear wheels fitted with performance tires. There is also a ventilated rear bumper housing a dual sports exhaust system.
The engine will be a powerful twin-turbocharged V12 and two electric motors powering the front wheels. Obviously, the performance will be superb – 0-100 km/h in less than 3.0 seconds and a top speed of over 400 km/h (248 mph).Other details include a sequential gearbox, a mechanical LSD (limited-slip differential), regenerative brake system and an intelligent drive controller that offers five different modes: economy, normal, safe, sport and race.