MINI ALL4 Racing to Participate in the Dakar Rally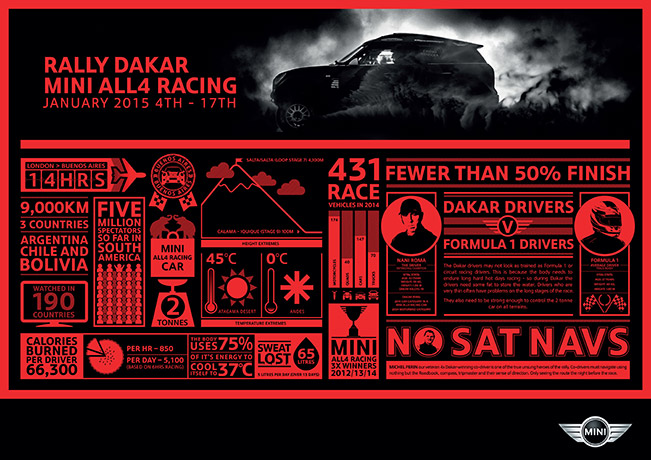 The MINI ALL4 Racing is returning in 2015 again to defend its Dakar Rally crown! This thrilling motor race takes drivers across 9,000km of the South American continent, thus passing through Chile, Bolivia and Argentina. The people who are going to fight for MINI's trophy are the famous Nani Roma and his experienced co-driver Michel Périn. The latter is a four-time Dakar winner himself.
In relation to the race, the legend Nani Roma commented: "The Dakar Rally is the most physically and mentally challenging rally in the world. After doing it 18 times it runs through my blood. Winning the 2014 Dakar Rally in the MINI ALL4 Racing was very special to me because it came exactly ten years after my first Dakar victory."
The MINI ALL4 Racing is said to be ready to demonstrate what is really locked in its nature. It is super powerful, really reliable and, above all, fast! Those are qualities that will definitely help the MINI justify its title of a winner.
More about the race now. The Dakar Rally represents an absolute orienteering challenge and endurance test. People who are taking part in it, drivers and co-drivers, are not aware of the exact route until the night before when the co-driver is presented with his Roadbook. This is the key to the race which provides information about the route, dangers highlighted courses and the different terrains the car is supposed to go through.
Most importantly though, the Dakar Rally tests the unique skills of the participants, their orientation and individual character.
Source: MINI