MINI goes camping with MINI Cowley Caravan and MINI Swindon Roof Top Tent
MINI brand is announcing the arrival of very special modifications of the emblematic vehicle, which are perfectly suitable for camping: a sumptuously appointed caravan with two sleeping bays and a roof top tent (also designed for two) in the classic John Cooper Works color scheme.
After the debut of the MINI Clubvan Concept at Geneva Motor Show, now it is time to be offered a very MINI holiday experience as well.
First, the MINI Cowley caravan offers everything that one needs to pitch camp in comfort: two welcoming sleeping berths, a twin gas-stove, a water tank with pump and dish module to charge the on connection to supply the refrigerator, TV/DVD and hi-fi stereo system.
The silhouette of the MINI Cowley model brings to mind the sweeping circular curves of the door trim inside a MINI. Plus, both side doors have sliding windows, and this reminds of how things were back in 1969.
The trailer is only twelve centimetres than MINI Clubman mirror to mirror and weighs just less than 300 kilograms (661 lb). Indeed, with its outstanding agility and fleetness of foot, there's no danger of the hallmark MINI driving fun being left behind over long journeys.
And if there isn't any chance for trailer coupling, such as the models of John Cooper Works, then the MINI Swindon roof might be a preferable solution. The tent can be fitted comfortably and with no effort to the roof of a MINI, MINI Clubman or MINI Countryman. The tent also offers a sleeping space for two persons and basically relieves one from the stress to constantly look for accommodation.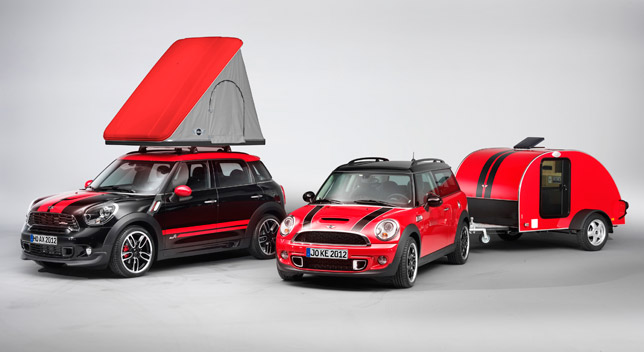 In addition, the roof-top tent works a treat. What is very comfortable here is that the sleeping position is elevated and will keep any passing-by animals away from the tent.
The design of the roof-top tent box allows it to blend in seamlessly with the MINI when closed. Its lower shell is painted Midnight Black, the upper opening section in Chili Red, which is a combination previously reserved for John Cooper Works models.
Source: MINI