MINI John Cooper Works GP and Countryman With Updated Performance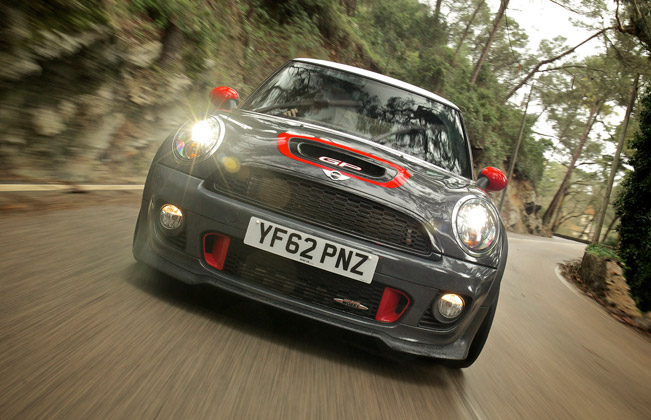 The MIN John Cooper Works range will be extended for the customers in the United Kingdom with the addition of the updated performance-oriented models. The prominent feature here is the enhanced version of the 1.6-litre four-cylinder twin-scroll turbocharged petrol engine.
The latter was optimized for the different models in the range. We are speaking about the JCW variants of the MINI Hatch, MINI Clubman, MINI Convertible, MINI Coupe and MINI Roadster. The new unit has the same levels of output and torque as its predecessor - 211 hp (155 kW) output at 6,000 rpm and 260 Nm (192 lb-ft) of torque (280 Nm/ 207 lb-ft with overboost) between 1,850 and 5,600 rpm.
However, it will offer increased responsiveness, lower fuel consumption and cleaner emissions. The enhanced versions also include a wider utilization of MINIMALISM environmental technologies such Brake Energy Regeneration and Auto Start/Stop.
Furthermore, for the first time in the JCW range will be offered a new engine offers a six-speed manual transmission. Of course there is an optional automatic one with manual override on the gear selected or steering wheel paddles.
More importantly, the MINI John Cooper Works Countryman which is brand's newest performance model will include MINI ALL4 all-wheel drive and also gets launched in UK. It has advanced traction system and comes equipped with 1.6-litre 218 hp (160 kW) engine with peak torque of 280 Nm (207 lb-ft). The unit is mated to a six-speed automatic gearbox with Steptronic function.
The interior of this John Cooper Works model includes sports seats, sports steering wheel, Piano Black interior detailing and an anthracite-coloured roof liner. MINI's innovative Centre Rail storage and attachment system is part of standard specification.
What is more MINI John Cooper Works GP which brings about the highest level of performance, and will be included in the range that is going to be launched. The JCW GP road car utilizes race-developed technology and is the fastest production model that MINI has ever built. It will be limited to just 2000 examples worldwide.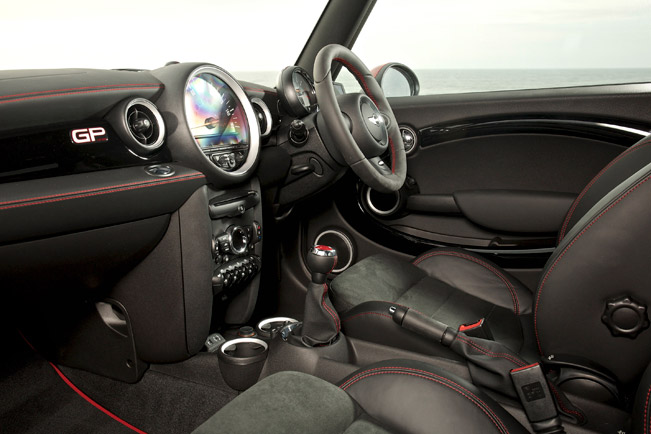 It is packed with JCW motorsport features does not have a rear bench seat, hence the hot hatch boasts outstanding performance. The engine has been reworked to develop 218 hp(160 kW), pushing the car from 0-100 km/h in just 6.3 seconds and on the way to a Vmax of 150 mph.
Other modifications include adjustable coilover suspension, a new sports brake system, a more aerodynamic body kit and unique alloy wheels with performance tyres. The exterior color is the exclusive metallic Thunder Grey, but has added accents with the vibrant red finish around the air scoop on the bonnet, door mirror caps and front air intakes. The interior of the model includes two Recaro sports seats with special GP stitching.
MINI John Cooper Works GP is priced at £28 790, while MINI John Cooper Works Countryman has a starting price of £28 595.
MINI John Cooper Works models performance data:
MINI John Cooper Works models – key performance data Model
0-62mph/secs
Top speed/mph
Combined fuel economy/mpg
CO2/g/km
manual (auto)
manual (auto)
manual (auto)
manual(auto)
MINI JCW Hatch
6.5 (6.7)
148 (147)
42.8 (39.8)
153 (165)
MINI JCW Clubman
6.8 (7.0)
148 (147)
42.2 (39.2)
155 (167)
MINI JCW Convertible
6.9 (7.0)
146 (145)
41.5 (38.7)
157 (169)
MINI JCW Coupe
6.4 (6.6)
144 (148)
42.8 (39.8)
153 (165)
MINI JCW Roadster
6.5 (6.7)
147 (146)
41.5 (38.7)
157 (169)
MINI JCW Countryman
7.0 (7.0)
140 (139)
38.2 (35.8)
172 (184)
MINI JCW GP
6.3
150
39.8
165
Source: MINI