MINI Expands its All-Wheel-Drive Range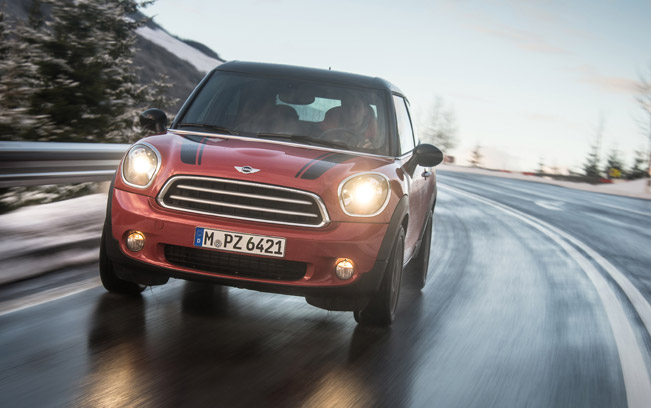 MINI has just announced that it is going to expand its all-wheel-drive range (ALL4) of vehicles thus delivering more driving fun, focused experience and agile handling. In March the choice of additional models with ALL4.
That's when the MINI Paceman will be launched featuring the ALL4 as a standard or an option. The number of models with this technology will increase up to eight. The first Sports Activity Coupé in the premium compact segment sees ALL4 optionally teaming up with the diesel engines in the Cooper SD Paceman (105 kW/143 hp) and Cooper D Paceman (82 kW/112 hp), as well as the petrol unit under the bonnet of the Cooper S Paceman (135 kW/184 hp).
In addition, MINI John Cooper Works Paceman will also be equipped with the all-wheel-drive system as standard. The model generates 160 kW/218 hp and has as standard with a six-speed manual gearbox. Automatic transmission comes as an option.
As a matter of fact, ALL4 delivers boost to traction, directional stability and agility through corners. In addition, the ALL4 will be featured in the Countryman, Cooper S Countryman, Cooper SD Countryman and Cooper D Countryman as an option. On the other hand as a standard it will be included in the MINI John Cooper Works Countryman.
To go further into details, the all-wheel-drive system utilizes an electromagnetic centre differential to distribute drive seamlessly between the front and rear axles. In normal driving the system diverts up to 50 per cent of the engine's power to the rear wheels, rising to 100 per cent in extreme conditions.
ALL4's control electronics are integrated directly into the DSC (Dynamic Stability Control) management unit, enabling drive to be channelled through the wheels as required in a matter of milliseconds.
In addition it also optimizes the fuel economy. It also utilizes the data collected by DSC to tweak the power split pre-emptively and to effect through dynamically taken corners. The system feeds a higher proportion of the engine's power to the rear wheels to make turn-in as precise as possible.
All of the models which will feature the ALL4, will also include the DSC system with DTC (Dynamic Traction Control) mode. The latter allows controlled slip through the driven wheels to ease moving off on loose sand or deep snow. What is more, those models will also have a very specific chassis set-up, which includes an inner vibration damper and delivers great acoustic and dynamic comfort.
Source: MINI